Analyze:
Regulatory
360 Module
Mitigate compliance risk and regulatory burden with a strategic view of approved, in-process materials, and publications in one easy-to-use dashboard.
OVERVIEW
Mitigate compliance risk.
Visually aggregate relevant content and easily generate regulatory reports.

Expedite Reporting
Maintain compliance and increase productivity by aggregating regulatory analytics in a centralized dashboard.

Identify Insights
Extract valuable product information to guide medical strategy.

Gain Competitive Intelligence
Identify and track related products and new drugs as they come to market.
CAPABILITY
Easily track novel molecules.
Sorcero's Regulatory 360 Module for Regulatory Affairs displays adverse events and post-market performance at a regional and global scale. Real-time processing automatically updates the auditable dashboard. Approved, in-process materials, and publications are tracked across disease states and indications.

- Centralized dashboard
- Auditable
- Regional and global
- Real-time processing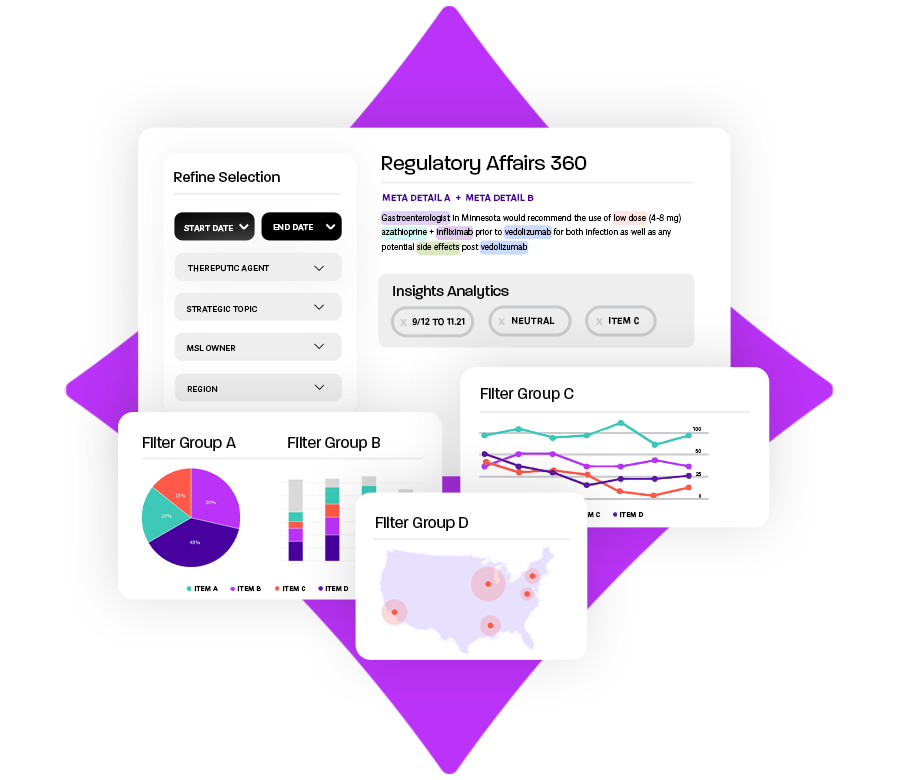 The latest resources delivered.
Stay on top of the latest from Sorcero's resource center.
Modules
Explore other regulatory affairs modules.
Sorcero's platform leverages advanced algorithms and disease-focused ontologies to organize and understand how language is used in Life Sciences. That means you can gain clarity with faster document review, analytics, and insights from thought leaders across therapeutic areas all over the world.

Capture: Regulatory Compare
Empower your regulatory submissions team by taking any file type, from PowerPoint to web-based scraped content, and learning if there have been any language changes, new implied usage, or non-compliant documents in minutes.
Learn More


Monitor: Pharmacovigilance
Stay one step ahead of the changing regulatory environment and keep your products compliant with your personal AI assistant.
Learn More