AI can deliver exponential value to Medical Affairs. From aggregating and enriching KOL insights to real-time scientific content monitoring, the possibilities are transformative.
The Evolving Role of AI in Medical Affairs
As novel AI technology gains traction across the field, Medical Affairs executives and professionals are ready to learn more about what's behind the technology. How are insights being uncovered, and how can they be used in practice?
The fact sheet below outlines: (1) the families of AI applicable to publications, (2) new applications of Language Intelligence to deliver value, (3) the benefits of an AI + expert partnership, and (4) how to integrate AI into MA functions.
These takeaways are designed to help MA teams identify best practices for the successful deployment of AI technologies.
Download the Fact Sheet PDF - The New Role of AI in Medical Affairs
Fact Sheet: The Emerging Role of AI in Extracting Complex Insights from Scientific Literature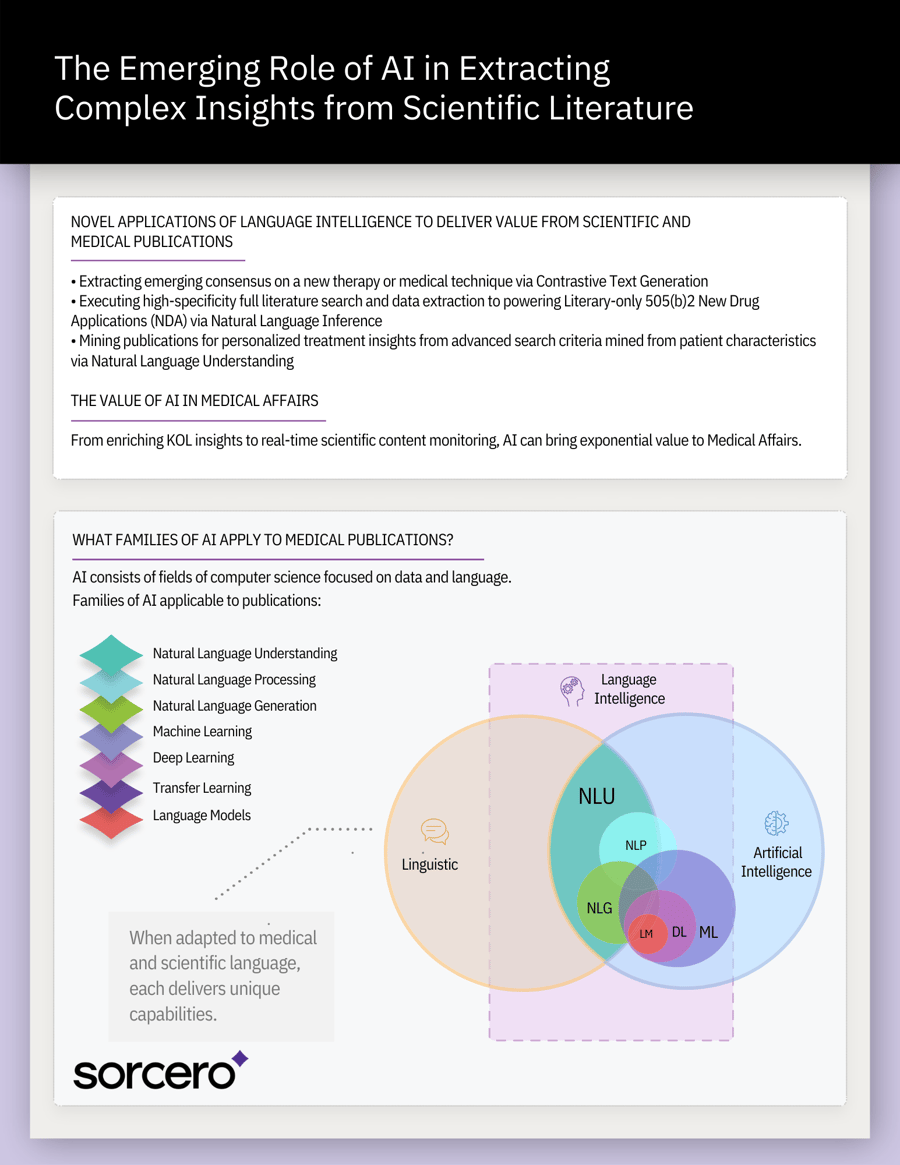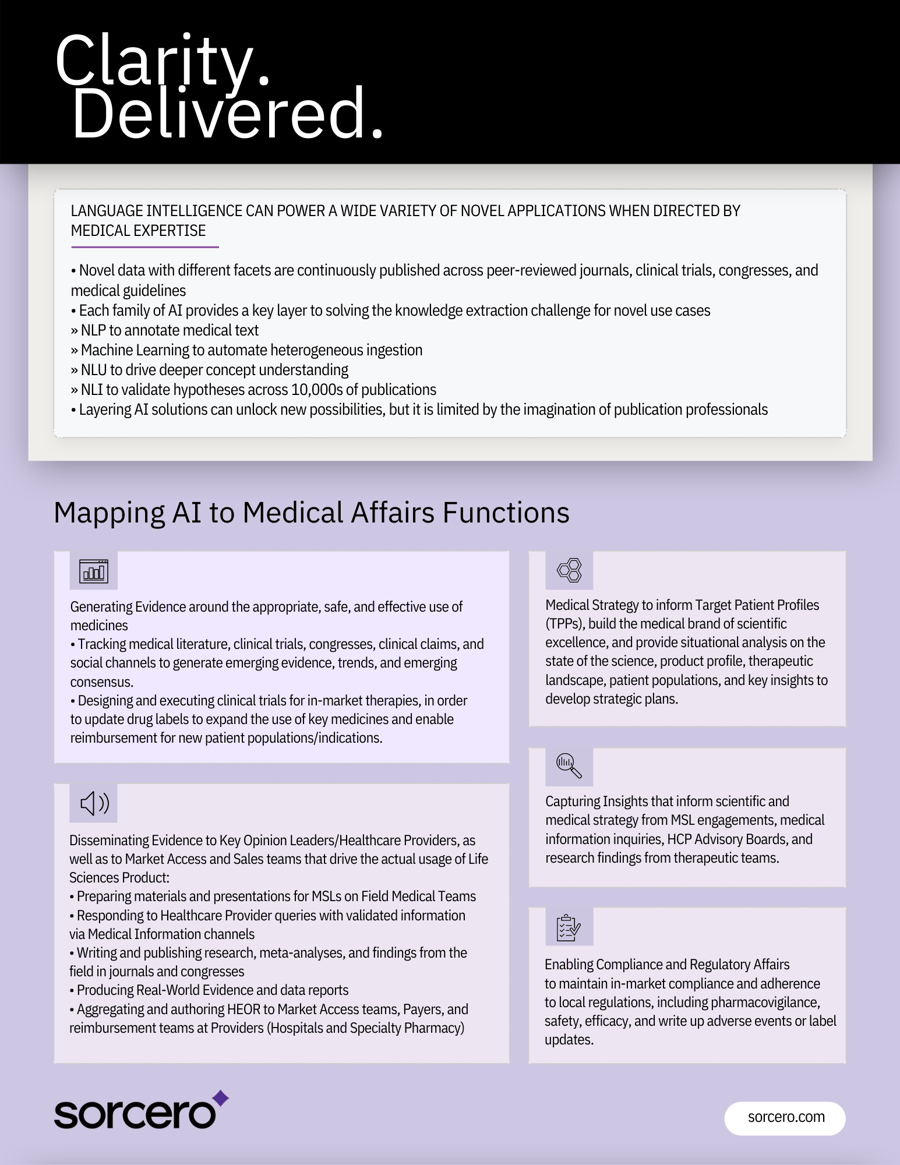 Mapping AI to Medical Affairs Functions
There's no doubt that Medical Affairs can derive value from artificial intelligence. The next step is to put it into practice and evaluate how it can augment various workflows.
Generate evidence around the appropriate, safe, and effective use of medicines
Track medical literature, clinical trials, congresses, clinical claims, and social channels to generate emerging evidence, trends, and consensus.

Design and execute clinical trials for in-market therapies to update drug labels to expand the use of key medicines and enable reimbursement for new patient populations/indications.



Disseminate evidence to Key Opinion Leaders (KOLs), Healthcare Providers (HCPs), and Market Access and Sales teams
Auto-generate materials and presentations for MSLs on Field Medical Teams

Respond to HCP queries with validated information via Medical Information channels

Write and publish research, meta-analyses, and findings from the field in journals and congresses

Produce Real-World Evidence and data reports

Aggregate and author HEOR to Market Access teams, Payers, and reimbursement teams at Providers (Hospitals and Specialty Pharmacy)



Capture insights that inform scientific and medical
strategy
Centralize insights from MSL engagements, medical information inquiries, HCP Advisory Boards, and research findings from therapeutic teams to drive strategy



Enable Compliance and Regulatory Affairs
Maintain in-market compliance and adherence to local regulations, including pharmacovigilance, safety, efficacy, and write up adverse events or label updates.



Medical Strategy to inform Target Patient Pro
files (TPPs)
Build the medical brand of scientific excellence and provide situational analysis on the state of the science, product profile, therapeutic landscape, patient populations, and key insights to develop strategic plans.
Meet the Facilitators:
| | | |
| --- | --- | --- |
| | | |
| Richard Graves, Chief Commercial Officer and Co-founder of Sorcero | Matt Lewis MPA, Global Chief Medical Analytics and Innovation Officer at MEDiSTRAVA | Tim Mikhelashvili PharmD, CEO & Co-founder of Amedea Pharma Inc |
This March 2022, panelists Richard Graves, Matt Lewis MPA, and Tim Mikhelashvili PharmD presented on the topic "The Emerging Role of AI in Extracting Complex Insights from Scientific Literature" at The Medical Affairs Professional Society (MAPS) 2022 Global Annual Meeting in New Orleans, LA.
Hot Topic Roundtable Synopsis:
Global medical strategies are often based on an HQ perspective through insights from established sources, such as global trials and global advisory boards. This session will explore how the focus on securing one voice worldwide — and the ability to measure the impact of the strategy locally — calls for a need to secure an outside-in perspective by engaging the global organization through innovation in selecting and applying data to define the strategic process.
Leading up to the event, Graves, Lewis, and Mikhelashvili held a webinar to discuss this hot topic. Here you can watch the free recording of the webinar: The Emerging Role of AI in Extracting Complex Insights from Scientific Literature.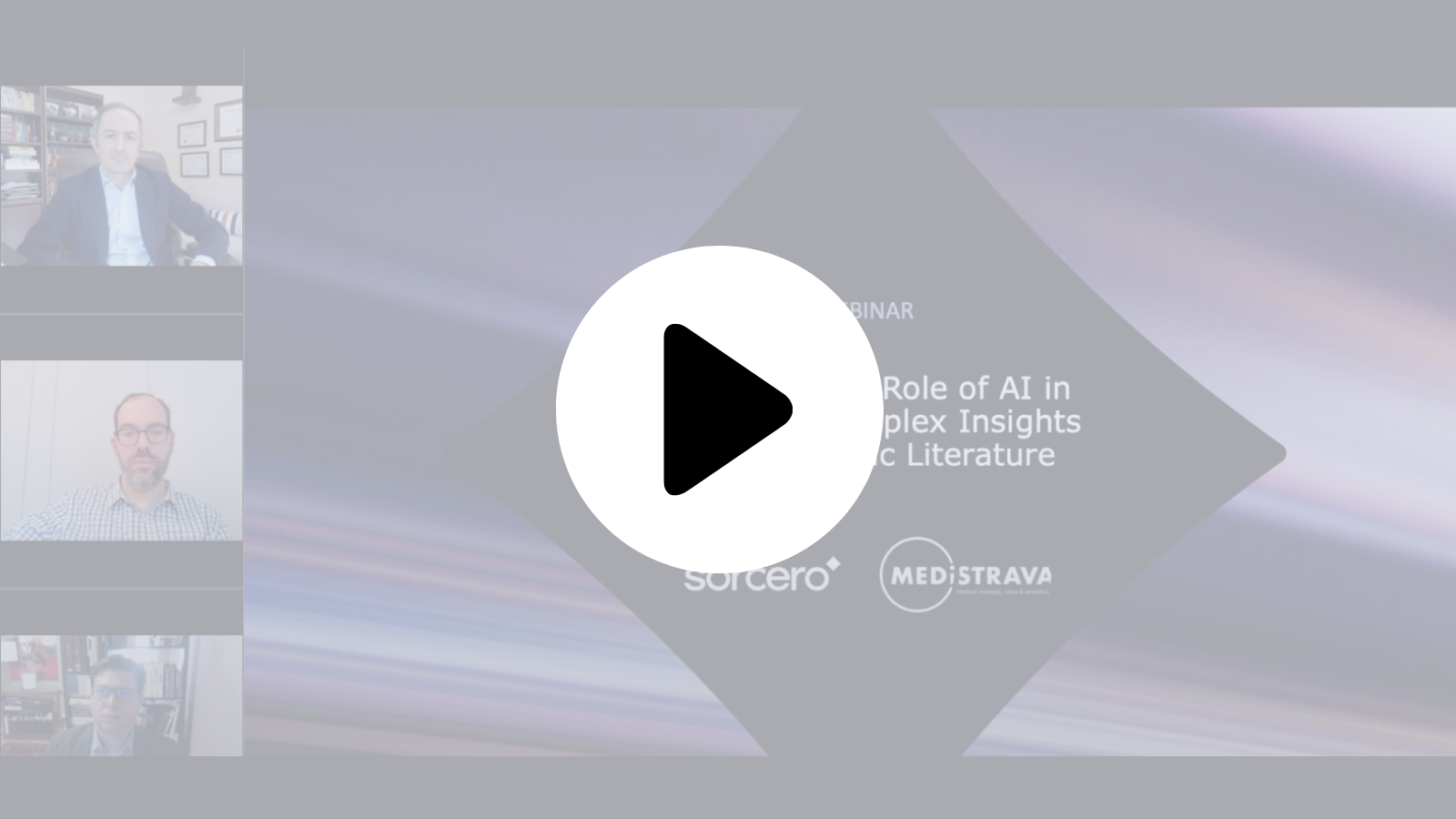 During the webinar, our panel provided insight into the emerging role of AI in Medical Affairs. The key aspect of the role they focused on was literature monitoring and review.
Watch the free webinar recording: Free Webinar Recording - The Emerging Role of AI in Extracting Complex Insights from Scientific Literature
To learn more about the potential impact of AI-powered insights on your organization, connect with our team today.