Intelligent Publication Monitoring
Sorcero IPMTM
Intelligent Publication Monitoring. Identify the most clinically impactful content for competitive intelligence, compliance, and evidence generation.
OVERVIEW
Track product and scientific performance.
Replace therapeutic landscape, competitive intelligence, and outsourced literature reviews and reports, reducing costs by 88%.

Accelerate
Actionable Insights
Quickly process content and uncover valuable AI-augmented medical insights, increasing productivity by 10X.

Centralize Large Volumes of Content
Pull content from over 20 different sources (including PubMed, Europe PMC, and LitCovid) into one central location to enable deeper analysis and understanding.

Improve Accuracy and Confidence
Accurately identify the most relevant content for your unique needs with 100% sensitivity and 95% specificity.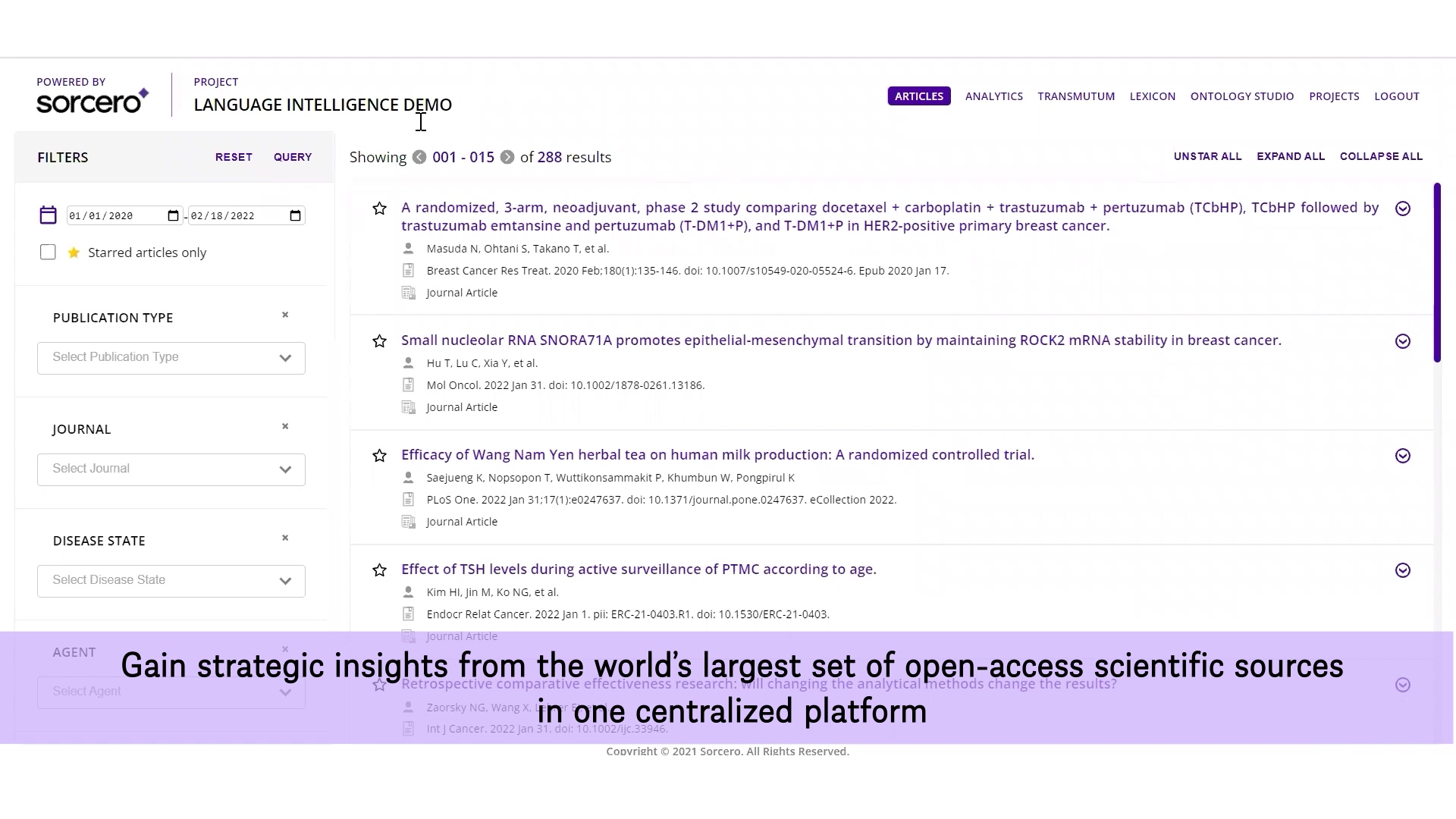 ILLUMINATE INSIGHT
Capture insights from biomedical literature at superhuman speeds.
Intelligent Publication Monitoring (IPM) captures and analyzes biomedical content from the world's largest set of open-access scientific sources. Watch the demo video to see IPM in action.
Watch the IPM Demo
CORE FEATURES
Real-time publication analytics dashboards.
- Data warehouse of ranked, summarized, and tagged literature
- 44 million publications, preprint, and citation data
- Single Source of Truth (SSOT) for relevant scientific literature
- Auto-summaries of abstracts and full-text articles
- Publication Clinical Impact Score (PCIS)
- Scientific Share of Voice (SSoV)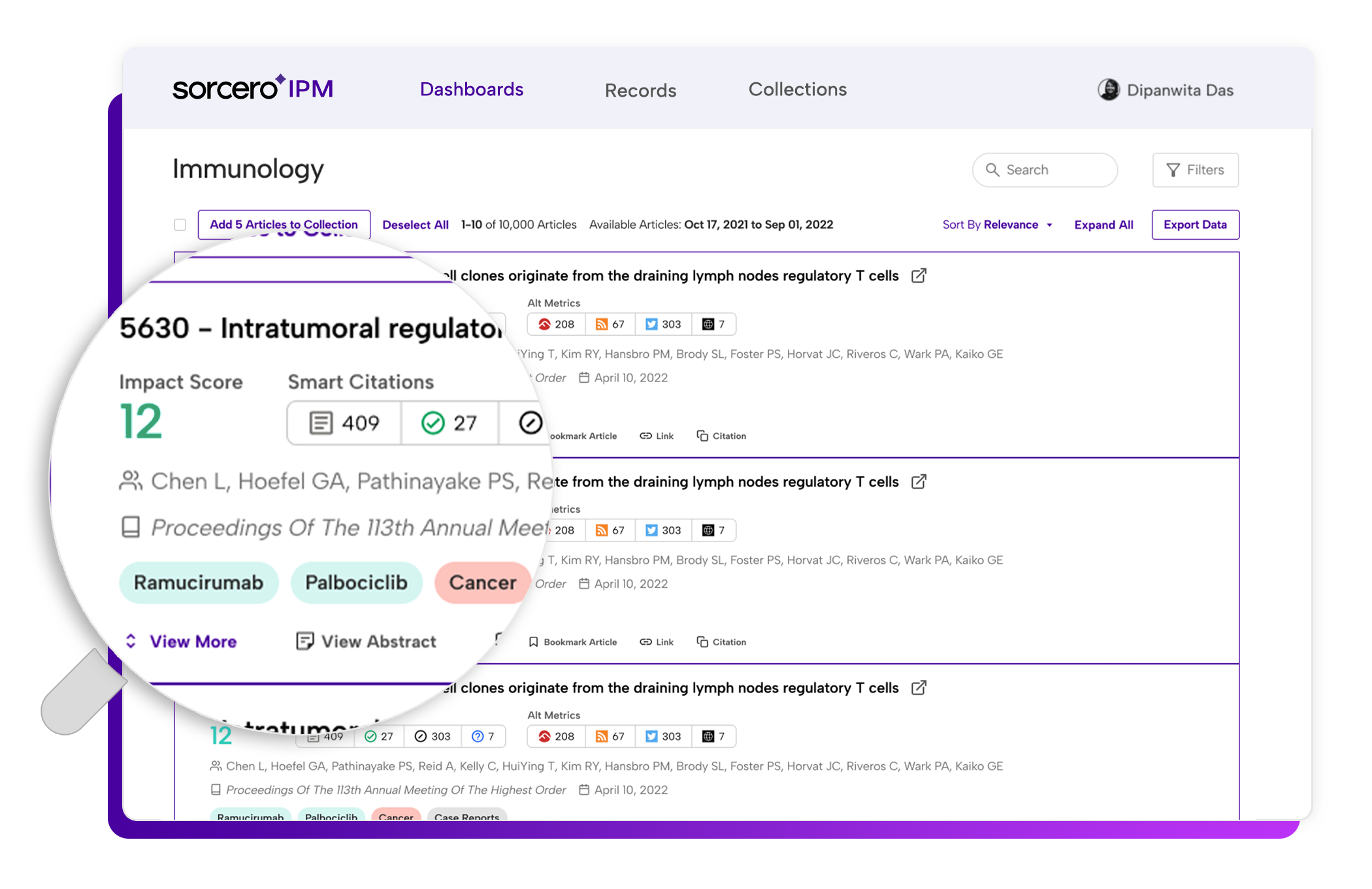 The latest resources delivered.
Stay on top of the latest from Sorcero's resource center.
Additional Applications
Explore the Sorcero Platform
The Sorcero Platform eliminates data silos and manual reporting with tools to capture, enrich, and analyze results.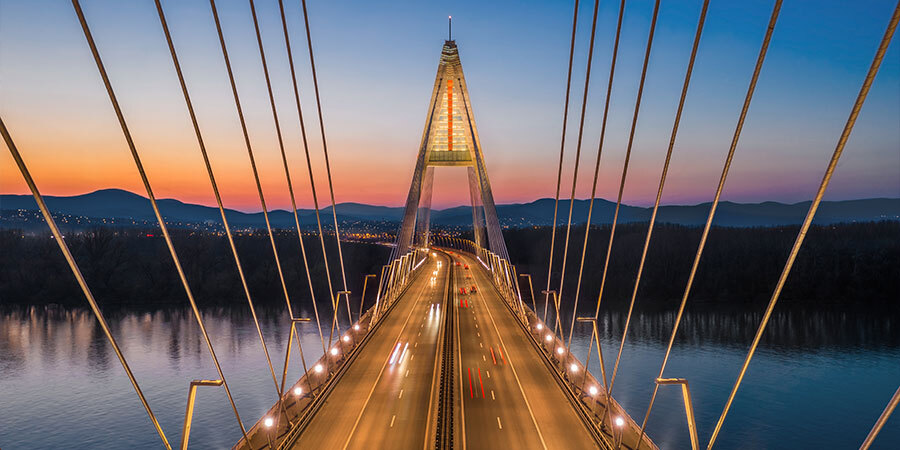 Blog
For Medical Affairs professionals, deriving actionable insights from the vast quantities of available data can be a major..
Read More