Data is everywhere in our digital world. Like in many industries, life sciences and health care professionals are engaging across a myriad of channels. This interconnectivity is helping to gather new insights and tap deeper into the needs of patients.
Multiple touchpoint strategies are proven to maximize data collection. This critical data can help pharmaceutical teams, including medical affairs, to make more informed decisions. Although, if this data is not effectively managed, it can cost hundreds of manual processing hours or slip through the cracks.
Omnichannel life sciences analytics is now enabling medical affairs to make the most of its cross-channel data.
In this guide, we break down omnichannel life sciences analytics and how medical affairs can start applying it today.
Let's get started.
What is Omnichannel Analytics?
Omnichannel analytics brings data together across sources to provide a holistic view of a market. Some common goals of omnichannel analytics are to:
Generate evidence and insights

Track trends and touchpoints

Optimize workflows

Deliver more personalized interactions

Improve the user journey
How is

omnichannel

different than

multichannel

?
The terms omnichannel and multichannel are similar, and often used together, but there are key differences.
Simply put, multichannel means multiple channels. Omnichannel means all channels.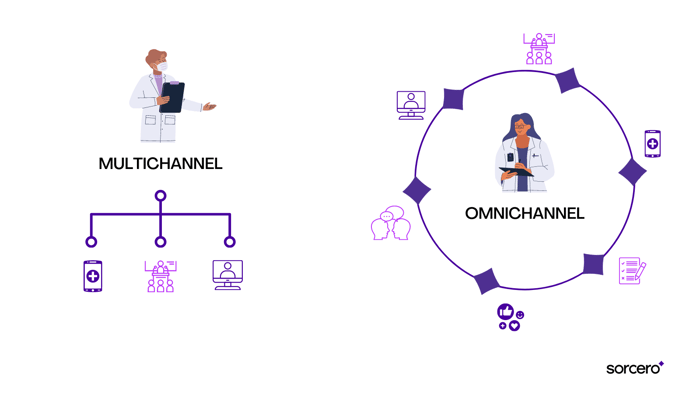 While the multichannel approach sees each channel as a way to target and distribute information, the omnichannel approach follows the individual journey by blending channels into a centralized location. The goals vary between the two, and as such, so do the outcomes.
How are omnichannel analytics used in the life sciences?
Commercial teams have largely been the first to implement omnichannel strategies into their workflows in the life sciences. Medical Affairs has generally been slower to adopt this technology. Here are 3 reasons for this trend:
Commercial/Marketing Early Adoption: Across industries,

omnichannel strategies have taken hold in marketing and sales,

especially as retail expands out of brick-and-mortar and into the mobile sphere.

Medical Affairs Investment: A McKinsey report indicated that only 10% of life sciences companies consider themselves "investors" in Medical Affairs solutions that enable real-time exchanges between stakeholders.

Hype vs. Reality: Medical Affairs is leading the way in its digital transformation. But, it has seen smoke and mirrors products that don't live up to the promises of their claims.
>> What is the impact of Medical Affairs? How to Tell the Full Story
Medical Affairs Integration - What's the goal?
Before implementing any new technology, you can always come back to the driving goal of Medical Affairs: improved patient outcomes.
Medical Affairs relies on accurate and timely streams of data. Data informs decision-making and strategies that impact the whole of the organization - leading back to patients.
How does omnichannel life sciences analytics support this goal?
In the life sciences and health care industries, everything is connected.
Today's patient journey stretches across an expanding number of online and offline channels. According to the 2021 AMA Telehealth Survey Report, 85 percent of physicians used telehealth services in 2021.
Still, there's a lot of variety within this figure when it comes to source and format.
69% of surveyed physicians report doing audio-only visits

8% report using remote patient monitoring technologies including smartphones

76% report that data is shared manually (verbally or via email)
Largely in part to COVID-19, Medical Affairs and HCP interactions have become more digital. Physicians are trending toward digital to meet the needs of patients, as well as evolving the way they consume medical information according to McKinsey.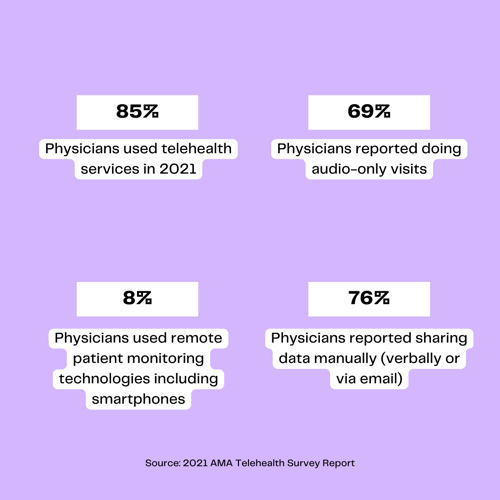 This report states that on a global average, physicians spend at least 1.5 hours/day online conducting research, with at least 45 minutes on social media. At the same time, 81 percent of physicians feel dissatisfied with the quality of their engagement with biopharmaceutical companies. There is a gap when it comes to personalization and quality, and omnichannel life sciences analytics offer the opportunity to fill it. What are some of the direct benefits?
Let's dive deeper.
Omnichannel Life Sciences Analytics Benefits for Medical Affairs
Clearer Insight into All Areas of Scientific Engagement
With an omnichannel life sciences analytics platform, Medical Affairs can get the full picture of its therapeutic areas. This connected data can help you tap into all areas of scientific engagement and get to the why faster.
Distinct from traditional reporting methods, which could easily be siloed on individual spreadsheets, you can examine a wide range of observations, insights, trends, and actions.
Clarity Medical Analytics centralizes structured and unstructured data and content from 20+ sources, including:
Publications (Pubmed, EuroPMC, BioRxiv, etc.)

Clinical Trials

Congresses

Social Media

CRMs

Medical Insights

Internal Data Lakes
Connecting the dots between these sources can give you a much clearer picture of your therapeutic area and help you to set your strategy based on data - in context.
Better Engagement, Personalization, and Communication
Medical Affairs strongly values the relationship between their team and HCPs, as well as KOLs in the field. In turn, MA can provide abundant value to HCPs, in turn, leading to better patient outcomes. Omnichannel analytics allows MA to monitor, measure, and respond to physicians.
What do physicians value the most? Content that enables them to better serve their patients. As reported by Accenture, 50 percent of HCPs consider content than can be easily distributed to patients or help them administer treatment to be the "best content."
Read More ➡️ 5 Ways Artificial Intelligence Can Strengthen KOL Engagement
Omnichannel analytics give you a clear framework to identify trends and engagement opportunities with real-time data and insight. In the likelihood that interactions are taking place across multiple channels, an omnichannel view enables you to keep it consistent and value-driven.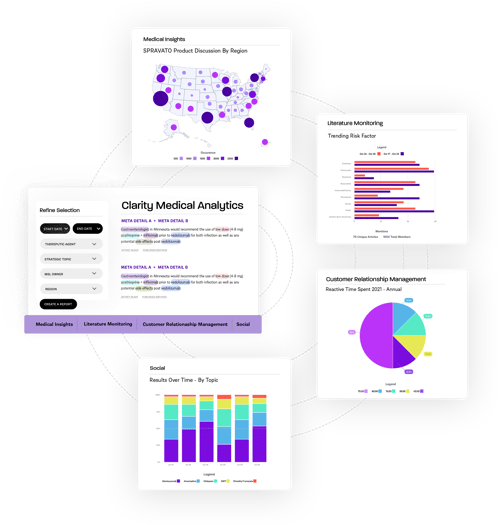 With the Clarity Medical Analytics platform, Medical Affairs can even generate custom reports in PDF and PPT that can be shared internally and externally. This saves countless hours of transferring data from one source to another, as well as the effort of finding the thread that tells the story and demonstrates value.
>> See it in practice: How Medical Directors Are Using Omnichannel Analytics to Stay Ahead
Medical Affairs can integrate data sources, from social media feeds to CRM notes, to pull everything together into one space without upending existing systems. This enhanced dashboard provides deeper insight for better engagement across channels - online and offline.
Improved Decision-Making and Patient Outcomes
Medical Affairs links its actions back to the product or disease area in focus, but its efforts place the people in the center of its focus. Their in-depth understanding of patients, HCPs, and products put them in a unique, but highly valuable position, to have true customer understanding.
This understanding extends out into other branches of the organization, and so for the sake of patients, it is vital that Medical Affairs' insights are maximized and brought in to shape strategy.
This evaluation can be done both quantitatively and qualitatively, based on feedback reported by McKinsey. They describe the combined approach as a "quantified experience design" that maps the physician journey and measures areas including:
How HCPs get medical information

HCPs stakeholder interactions

Biopharmaceutical engagements
When omnichannel life sciences analytics are augmented with artificial intelligence, Medical Affairs can segment physicians and follow their path across data, both structured and unstructured, to understand their core needs. This data can help drive strategy, prioritize, and make informed decisions that support improved patient care.
Getting Started with Omnichannel Life Sciences Analytics
Make a selection: Internal or external?
Each life sciences organization is unique, so it's important to find the right platform that fits your individual needs. Many teams will weigh the benefits of building a solution internally or even wait on IT to lead the charge.
While this can present some control, there are several advantages to implementing a platform that can layer into your existing systems - while also giving you the benefit of advanced features and tremendous cost savings reaching into the millions.
💡 In this guide, you'll find 4 tips for implementing new technology into Medical Affairs with some key questions to ask amongst your team.
What does an omnichannel analytics platform look like? ➡️ See what's possible with Clarity Medical Affairs
Connect & Customize: Analytics, Your Way
At Sorcero, we know that one size rarely fits all. When setting up Clarity Medical Analytics, we help Medical Affairs teams connect all sources of data. We also show leadership how to customize dashboards based on role, need, therapeutic area, or in a manner that makes sense for your team.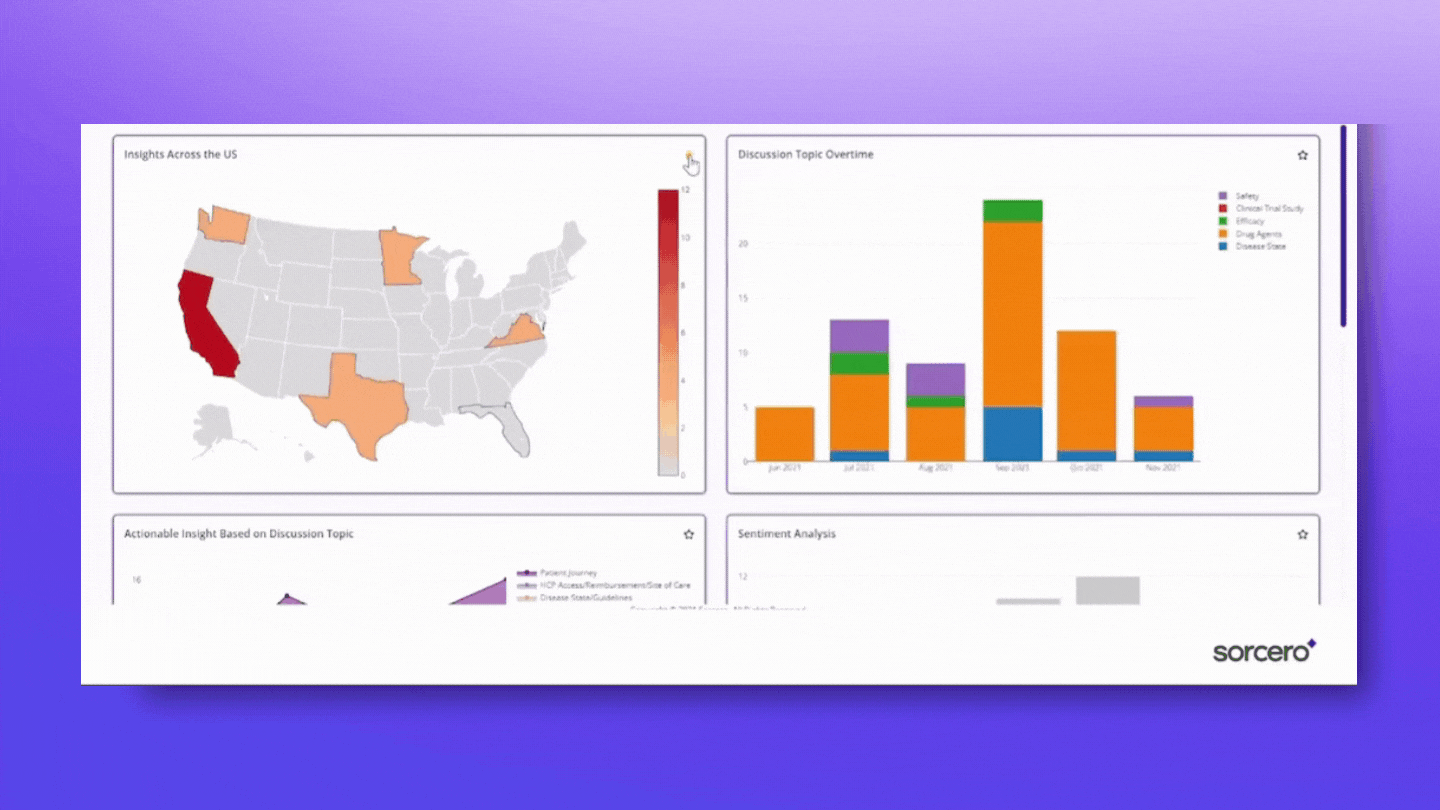 Custom dashboards give you a view over what you need - when you need it. This guide shares some best practices for bringing together other departments including IT during this process.
Measure & Improve, Improve, Improve
When it comes to any form of new technology, the implementation stage is rarely final. That's completely okay. Similar to most of our workflows, there are always areas to monitor and improve.
But, omnichannel medical analytics will help you optimize strategies, generate evidence, demonstrate value, and uncover new opportunities. When Medical Affairs can stay ahead of its data, it can find better ways to meet the needs of the organization, providers, and of course, patients.
Launch your Medical Affairs omnichannel analytics strategy with Clarity
Omnichannel analytics can deliver many benefits to Medical Affairs. It can help teams gain an advantage across disease and therapeutic areas with a single source of truth for evidence generation, publication planning, HEOR, medical information, medical insights, and more.
An omnichannel life sciences analytics platform with AI-augmented insights can enable Medical Affairs to make the most of its data. Clarity Medical Analytics provides real-time dashboards that track key measures across all areas of scientific engagement: Medical Voice of the Customer, Scientific Share of Voice, and more. Medical Affairs can connect internal and external data sources to create customizable dashboards that monitor the landscape in real time.
🕦 Schedule a discovery call today to learn more about how Clarity Medical Analytics can connect all areas of scientific engagement to drive strategy and deliver value.