There's no shortage of reasons to celebrate the women at Sorcero. Each day, we're led by the visions of women who impact change.
We're proud to be a female-founded AI enterprise with a majority female leadership team. Our team is stacked with female engineers and artificial intelligence experts.
That's what makes March such an important month.
March is Women's History Month
Each March, Women's History Month celebrates the achievements and impact of women. This annual occasion marks the indispensable role women play across the world. It spotlights the contributions women have made, and continue to make, to society.
Over the past couple of years, our society has seen important changes. In two years, from 2019 to 2021, there was almost a 10% increase in the number of female CEOs and managing directors. Last year, there were a record 23 Fortune 500 female CEOs, which includes six women of color.
Still, there is progress to be made. Globally, women hold only 31% of senior management roles. This figure is the highest it's ever been. On the heels of a global pandemic that disproportionally affected women in the workplace and highlighted the inequalities faced by women of color, it's important to pause and reflect.
Providing Healing, Promoting Hope
The 2022 National Women's History Theme is quite impactful.
The theme "Providing Healing, Promoting Hope" is a "tribute to the ceaseless work of caregivers and frontline workers during this pandemic." According to the National Women's History Alliance, it's also a "recognition of the thousands of ways that women of all cultures have provided both healing and hope throughout history."
This theme strikes a chord with Sorcero team members, as our mission is based on using AI to support life sciences. Our team is driven to make the lives of these workers easier. Life science and health care professionals make decisions that could change lives—and save lives. They face problems worth solving and deserve support in every way possible.
Women's History Month at Sorcero
This year, the National Women's History Alliance "encourages groups throughout the country to use the theme to recognize and honor women in their own communities, organizations, or agencies."
This Women's History Month, we couldn't resist showcasing the women who guide the way in everything we do.
Who are the female leaders driving change at Sorcero?
Putting the spotlight on our female CEO and Co-founder, Dipanwita Das
Where there is an opportunity to improve lives through better use of knowledge, there is Dipanwita Das.
An award-winning global technology entrepreneur and a Sir Edmund Hilary Fellow, she developed Sorcero's vision of applying advanced analytics to medical and scientific language to improve patient outcomes. She has also helped author the company's 5 patented advances in biomedical AI.
"I founded Sorcero so we could create a purpose-built platform to operationalize medical content at scale," shares Dipanwita. "This infrastructure-based approach to product development allows us to not only solve individual business problems but also offer the tools to configure new solutions to address new requirements as they emerge."
As CEO of Sorcero, she provides a clear vision, mission, and accompanying direction and focus to succeed as a company. The mission is anything but small. Sorcero is on a mission to improve patient outcomes by empowering life sciences experts.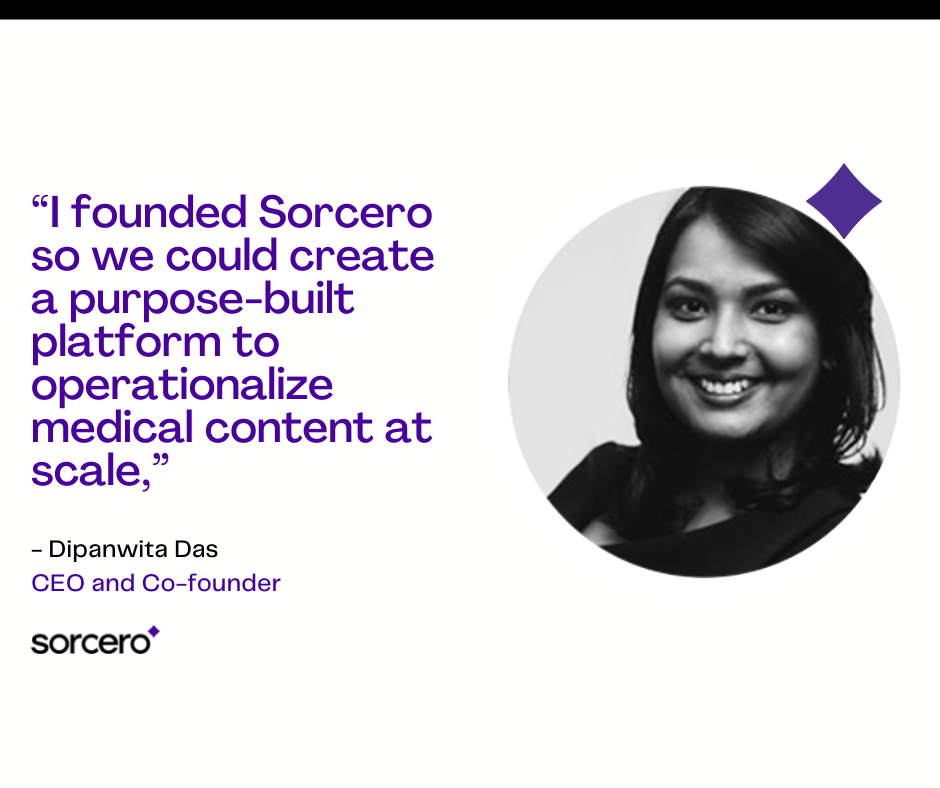 She also is an advocate for each of her female employees. From day one, she gives us the rule of not saying sorry. It doesn't mean we're mistake-free. It just means that as women, our leadership team understands what it's like to feel the burden to constantly apologize, even when unwarranted. They lead by example and with gratitude, rather than guilt for showing up.
Our Machine Learning Leader, Sandra Carrico
Sandra Carrico is leading the way in machine learning (ML) innovation. We are fortunate to have her as our Vice President of Machine Learning at Sorcero.
She holds multiple patents in different areas of software. Most notably, she is the inventor of Mixed Formal Learning. Mixed Formal Learning is an architecture for the development of efficient machine learning solutions that relies on formal mathematical models. Her algorithm currently reports less than a 1% error.
Prior to Sorcero, Sandra was Principal AI Architect at Anthem where she led the TeleHealthOS product and prescription prior authorization improvement project. She also served as VP of Engineering at a number of startups following her engineering management and R&D positions at AT&T Bell Labs and AT&T Labs.
She joined Sorcero to "move the machine learning state of the art forward." She achieves this every day by enabling machine learning natural language solutions in the life sciences.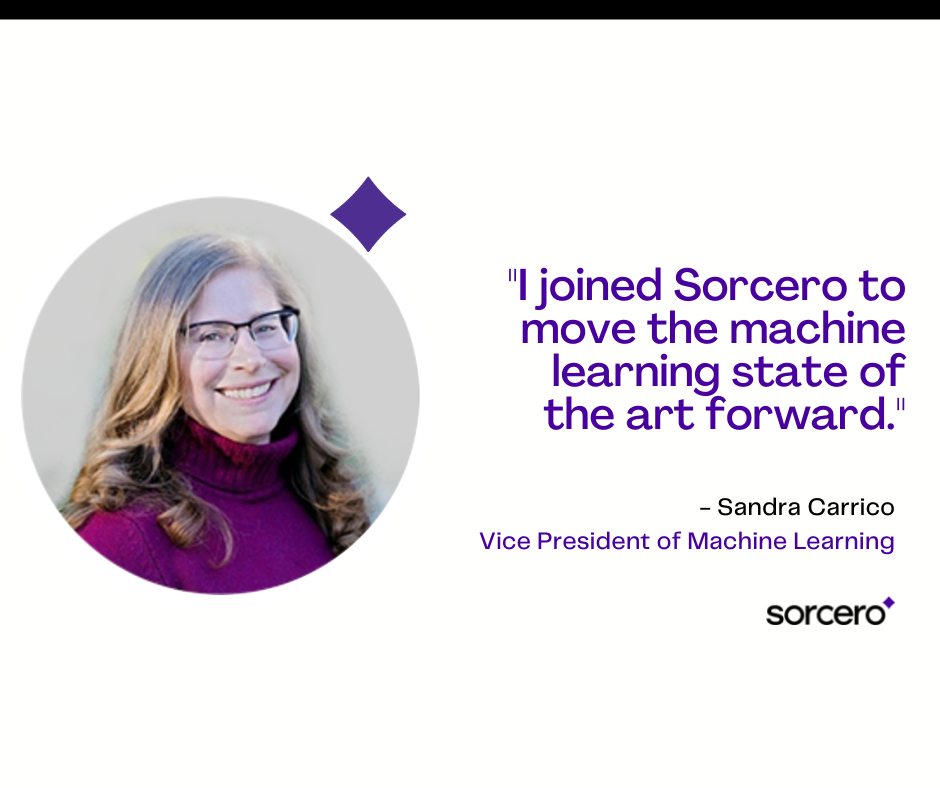 Zaneta Handa, Sorcero Strategist
Zaneta Handa is an operations and strategy leader with management expertise in multi-billion dollar enterprise operations. As Executive Cheif of Staff at Sorcero, she is the key representative of the organization and leadership. Zaneta drives commercial revenue goals by leading Alliance & Channel Partner efforts and applies her enterprise knowledge to the mission of improving patient health outcomes.
Zaneta joined Sorcero for many reasons, but there are three at the top. She says, "I truly believe in the vision and mission of the organization, especially as it relates to leaving the world a better place by improving patients' lives. Second, I was inspired by the 3 co-founders and humbled at the possibility to work with and learn from such brilliant minds. Also, I was intrigued by the startup culture and excited to apply my enterprise knowledge to this new environment."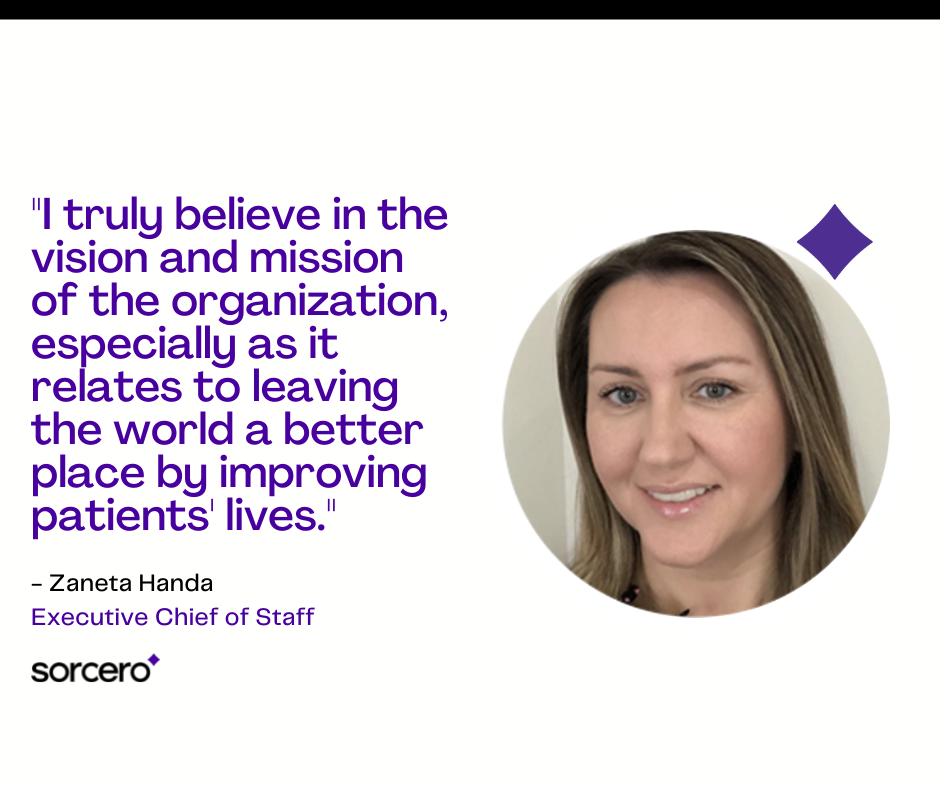 Within Sorcero and her community, Zaneta is an advocate for Women in Leadership and Girls in STEM initiatives.
Marketing for Growth - Elizabeth Venafro
Elizabeth Venafro was honored in the 2015 Loudoun 40 Under 40 for a reason. She is a B2B and B2G marketing executive with 15+ years of experience at start-up, growth, and public organizations. As Vice President of Marketing and Growth, she fuses expertise in marketing for medical devices and artificial intelligence to develop strategies that drive growth and connect with life sciences experts.
Always finding opportunities to learn and grow, Elizabeth has completed the Wharton Executive Presence and Influence: Persuasive Leadership Development Program at the University of Pennsylvania. She is an active community volunteer and supporter of animal welfare, children's rights, and education.
Elizabeth joined Sorcero "because it's not just about business. It's about the ultimate impact of what we do and that is improving patient lives. By augmenting the expertise of subject matter experts in life science organizations, they're going to relay that information to the health care providers to enable them to make better decisions and improve patient outcomes. In any job I pursue, I always try to find a greater purpose, and if it's not something I can get passionate about, then it's not an opportunity I take."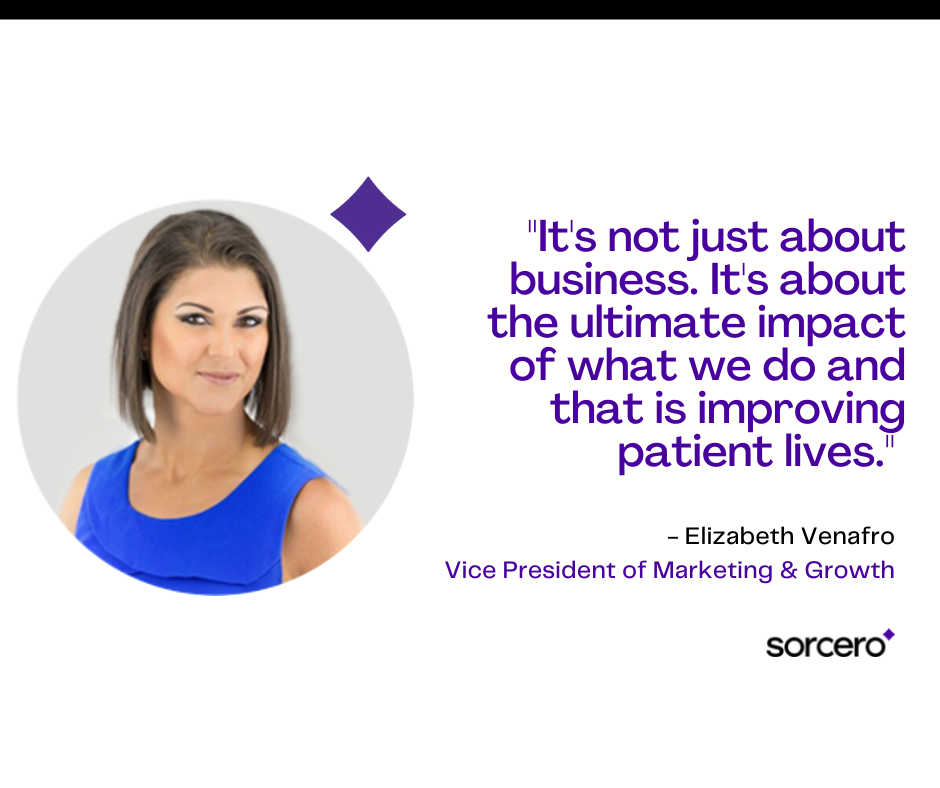 Kate Cody, Creating an Infrastructure to Scale Products and Teams
Kate Cody is an operations executive bringing over 15+ years of experience to Sorcero. As Vice President of Operations, Kate creates infrastructure to scale Sorcero's products and the teams that deliver them to build a system that solves major life sciences challenges and improves patient outcomes.
As former COO of Vemo Education, Kate implemented strategies that increased revenue 10X and revolutionized the value conversation around higher education in America. Through her leadership, Vemo Education became the 16th fastest growing company in the sector over a three-year period.
Kate shares, "I joined the team at Sorcero because they're building a state-of-the-art solution to a growing problem. We're living in an age of increasing amounts of information, which is amazing. But how can we possibly make sense of all the information that's becoming available to us? If life sciences companies can leverage our platform to analyze content at superhuman speeds, we'll see faster development of solutions that can really benefit patient health outcomes."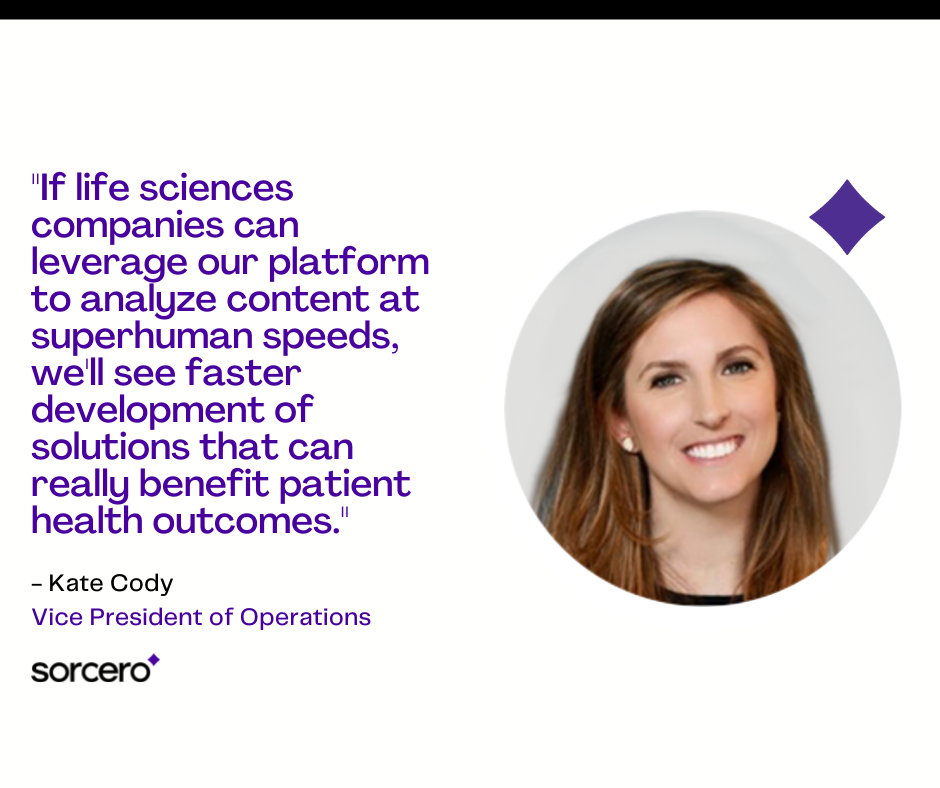 In addition to her role at Sorcero, Kate invests in veteran- and women-founded businesses. She works with a number of networks that engage youth girls in sports and improve family, career, and happiness outcomes for women.
Alongside her leadership accomplishments, Kate made an impact on the college athletics world. She has coached basketball teams to the NCAA tournament and set a record for the biggest two-year turnaround in wins.


What does Women's History Month mean to us at Sorcero?
Women's History Month is time to celebrate the accomplishments of the women on our team, especially in STEM and AI. When women are represented in all parts of the space, it builds an environment where we're able to come in and instantly feel confident that their worth will be measured based on impact. There are no ceilings or limits.
You can learn more about Sorcero and what we're all about here.