Medical Affairs provides value to the life sciences and health care in many forms, and KOL relationships are a major element of this value. Medical Science Liaisons (MSLs) engage with health care providers (HCPs) and key opinion leaders (KOLs) to gather and provide valuable insights that enable better patient outcomes.
Today, artificial intelligence is elevating strong pharma KOL engagement in 5 key ways.
What is KOL engagement in pharma?
KOL engagement refers to the interactions and relationships formed between key opinion leaders and pharmaceutical companies in efforts to share insights, data, and relevant medical content.
Why is KOL engagement important?
KOL engagement is invaluable to Medical Affairs, particularly for the consumer-facing Medical Science Liasion. Strong KOL relationships provide MSLs an opportunity to distribute valuable insights and product content, while also gathering insight into the priorities of health care providers and patients.
How do you build relationships with KOLs?
The process of building KOL relationships starts with identifying and mapping out the expert physicians and clinical researchers in a target market. Once KOLs have been identified, MSLs can build an engagement plan based on trust, value, and data. By delivering the right information to KOLs in an effective manner, commercial and research initiatives will also benefit from field insights that can inform and strengthen decision-making.
In 2018, 50% of biopharmaceutical companies preferred face-to-face interactions, but the pandemic has ignited a digital transformation that relies on virtual engagement. Medical Affairs has largely made the shift to virtual KOL engagement. The majority of MSLs have spent the past few years utilizing Zoom and other digital platforms for this purpose. Digital health care is also causing a major shift in physicians' patient interactions, and this is only forecasted to increase over the next several years.
However, as the industry adapts to the digital world, another rising burden makes it nearly impossible to stay ahead: information overload.
The volume of scientific content rises 36% annually, and this exploded at the peak of the COVID-19 pandemic. Since the pandemic, physicians are experiencing burnout that 54% would describe as strong to severe. Increased workloads, staffing, and heightened stress are just some of the factors that, when coupled with information overload, are leading to this burnout.
How can artificial intelligence help MSLs and KOLs overcome information overload?
The role of an MSL is increasingly expanding, so their time is almost as valuable as their expertise. Artificial intelligence provides an opportunity to help lift the burden of many manual tasks that take valuable time away from impactful relationship building. It also means that information can be targeted to the needs of the KOL.
5 Ways Artificial Intelligence (AI) Can Support KOL Engagement
1. Scale MSL Productivity
MSLs are highly trained experts, but even today, there is a large portion of their time spent on manual, repetitive tasks. The longer it takes to gather, sort, and analyze scientific and medical content, the less time MSLs have to dedicate to actual KOL engagement.
Artificial intelligence can lighten the burden of the manual process for MSLs. It can vastly reduce time spent on repetitive tasks, providing more time and clearer data points to develop an integrated engagement strategy. Some examples of MSL workflows that can be augmented through AI include insights management, literature monitoring, and report creation.
Overall, AI can MSLs time back that can instead be used to uncover valuable insights. In turn, those insights can be shared with key opinion leaders.
2. Prioritize KOL Personalization
Research indicates that 66% of medical professionals are overburdened with general digital content. They need more personalized, digestible information. Personalized content is a major value proposition that MSLs can provide, especially when done with consideration of KOL objectives. Augmenting the process to identify, connect, and share targeted content can save hours, if not days or weeks, worth of effort.
By using filters, tags, and auto summarization capabilities, MSLs can customize content to their therapeutic area, product landscape, or geographic location to monitor products, disease classes, and biomarkers based on KOLs' preferences.
Instead of spending hours searching and parsing through complex content, the information now is provided at their fingertips. It's a win-win scenario. MSLs save time and energy. HCPs are assured that the content is relevant, timely, and valuable.
3. Provide Insights from More Sources
Medical affairs can gain immediate access to credible information from both structured and unstructured content through artificial intelligence designed for life sciences. With a single repository of tailored scientific literature that automatically refreshes at regular intervals, MSLs could rapidly filter through vast quantities of research and uncover accurate, relevant data.
These AI innovations are enabling medical insights to be collected from a larger variety of formats and sources than ever before. Unstructured text is automatically smart-tagged and contextually evaluated for rank and sort order.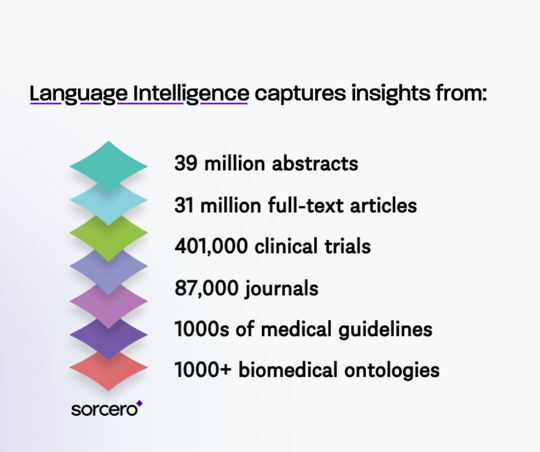 Language intelligence captures and enriches content from 20 + sources including (PubMed, Europe PMC, bioRxiv, LitCovid, medRxiv, ProQuest) and data types including:
39+ million abstracts

31+ million full-text articles

87,000 journals

49 preprint servers

401,000 clinical trials in 220 countries

1077 biomedical ontologies
This can also include spreadsheets, CRM notes, PowerPoint documents, social media posts, graphics, podcast audio recordings or transcripts, and frequently asked questions (FAQ) databases, among others, which is nearly impossible to manage across multiple databases. With more ability to capture and enrich insights from more sources, MSLs can feel confident that they are evaluating the entire landscape.
4. Present Insights - in Context
When data is easier to reference, MSLs can better demonstrate why specific insights are valuable to KOLs. Centralizing all areas of scientific engagement through artificial intelligence enables MA to extract the most valuable evidence and see it in relationship to the landscape. The visual dashboard can be used in presentation creation, elevating content from just numbers and figures into an actual story that shows direct impact.
As this content updates in near real-time through AI, it also helps MSLs to pinpoint the timing of their KOL engagements. This reduces concerns of missing opportunities in instances where something may have once been a priority for an HCP or patient but is no longer.
In addition, in just a few clicks, MSLs can create personalized reports and presentations for KOLs in PDF and PPT format. These data visualizations can save the KOL time when it comes to identifying key insights.
5. More Time = More Human Engagement
Today's rise in the volume and variety of available content can be overwhelming, but it also provides an opportunity to deliver the highest quality data and information to KOLs. Although virtual interactions are the new norm, there is still a critical human element to any relationship that MSLs can foster when connecting with KOLs. Better insights and data make that easier.
MSLs can invest less time on manual tasks and more time engaging in high-value relationships.
Looking Toward the Future: Medical Affairs and KOL Management
Since the pandemic, Medical Affairs teams have had to adapt to a variety of new technologies. This presents a challenge in itself, but if technology can provide long-term value, there is a case for investment. KOL management is transforming in the digital era, and artificial intelligence provides many capabilities that bolster the relationship-building element of the process. These collaborations can strengthen informed decision-making and improve patient outcomes - which is what matters most.
Sorcero is delivering clarity to Medical Affairs through its Language Intelligence Platform. With AI-powered analytics, Medical Affairs can track and visualize medical content at scale. This includes literature, clinical trials, congresses, social media, CRM data, medical insights, and internal data lakes.
Schedule a discovery call today to learn more about how Sorcero can support your Medical Affairs team with clear, real-time insight.