It's an exciting time for Medical Affairs teams, but it's also quite challenging.
There are more findings at our fingertips than ever before. Particularly as a result of COVID-19, the volume of scientific literature rises each month at new rates. Life sciences and health care professionals rely on this research and data to uncover novel breakthroughs, yet the surge of content is becoming nearly impossible for teams to manage and monitor alone.
How are medical affairs teams innovating today?
Leading pharmaceutical and medical device organizations are utilizing new technology, most notably AI, to solve some of their biggest challenges.
Medical Affairs teams can now leverage innovative artificial intelligence (AI) solutions to separate the signals from the noise. They can bring order and meaning to the vast array of information at their fingertips. Pairing medical affairs expertise with the support of technology leads to new breakthroughs and better patient outcomes.
Alongside its advantages, it is also true to say that new innovation does not come without questions or challenges.
Some common questions from pharmaceutical and medical device organizations include:
What are some of the use cases for AI as it relates to Life Sciences?

How are top pharmaceutical and medical device organizations leveraging AI?

What are some best practices for implementation?

How has COVID impacted the volume and delivery of medical and scientific content?
These questions - and more - will be the focus of our Hot Topic roundtable at the Medical Affairs Professional Society (MAPS) 2022 Global Annual Meeting this March. The theme of this year's meeting, From Vision to Action-Medical Affairs' Time to Lead is Now, centers on post-pandemic medical affairs. Our panel's goal is to provide actionable insights for using technology to support the role of Medical Affairs professionals.
In advance of the MAPS 2022 Global Annual Meeting, our Hot Topics panel gathered for a prequel webinar to discuss "The Emerging Role of AI in Extracting Complex Insights from Scientific Literature."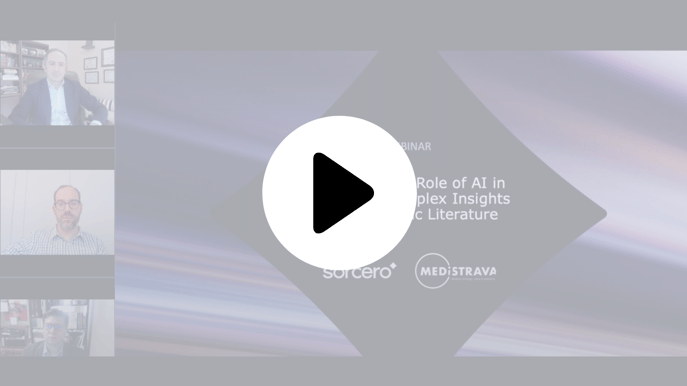 Our panelists include:
During the webinar, our panel provided insight into the emerging role of AI in Medical Affairs. The key aspect of the role they focused on was literature monitoring and review.
Watch the free webinar recording: Free Webinar Recording - The Emerging Role of AI in Extracting Complex Insights from Scientific Literature
The main question answered was: How can teams use new technology, namely AI platforms, to extract complex insights from the rapidly increasing volumes of scientific literature? Alongside this question, we discussed current challenges, opportunities, and solutions for medical affairs.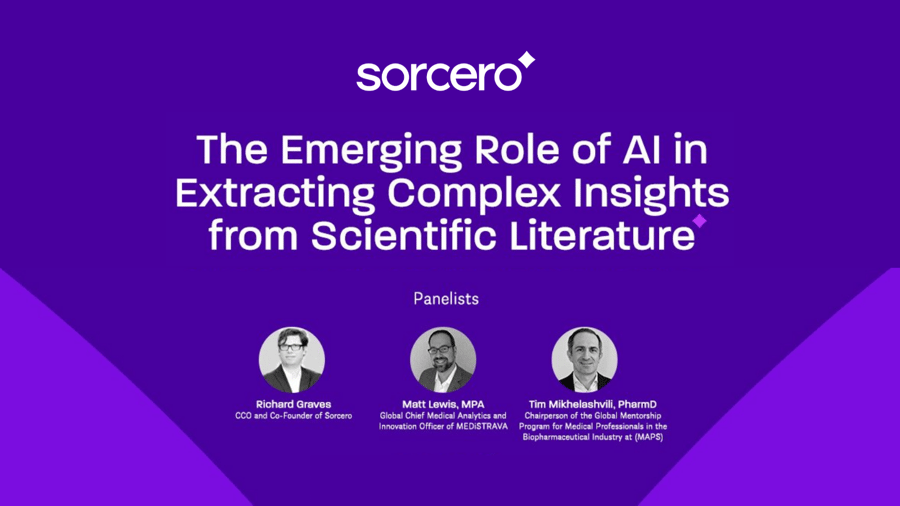 Question 1: What are some of the major challenges that the medical affairs teams are currently facing?
Before tackling this question during the webinar, we also wanted to hear from medical affairs teams directly. We polled medical affairs teams on our LinkedIn page and asked: What are some of the biggest challenges facing medical affairs teams today?
While other mentions included trust, data quality, and siloed processes, the main response was analyzing an abundance of data.
Data analysis is becoming more challenging today because there are more places to find data. It travels faster than ever before. Where does that leave medical affairs teams?
Medical Affairs makes up about 5-10% of an average pharmaceutical company, yet has continued to stay strong and competitive because of the evidence it generates. This evidence allows patients that would otherwise never be indicated for particular treatments to receive them. It changes guidelines, and also can even turn around companies based on its direct outcomes that span an entire organization.
Our panelist Tim Mikhelashvili, PharmD, highlighted the value of medical affairs during the webinar.
"When I think of medical affairs, I think of drums. Medical affairs teams are the drums that keep the beat of the sound of science going. One of the ways to do that is to monitor clinical scientific literature," said Mikhelashvili. "Medical affairs teams can either choose to be confused, or they can choose to be smarter and organize that data better. Utilize the latest technology."
Another challenge teams face is communicating their value to internal stakeholders. Current processes have largely been pictures and qualitative methods which have left a lot for interpretation.
What are some solutions to this?
Mindset shifts: Transform quality into quantity. Estimates or metrics can better communicate value.
Convert tasks to dialogues: Teams can now create more continuous dialogues with patients and collect data more quickly than ever before.
Shift outdated restrictions to opportunities: Create opportunities out of those same policies that prevent sharing some of those actionable insights with our internal stakeholders across the organization.
Don't be an island: Teams can be active partners in the influence of industry.
Question 2: How has the role of medical affairs evolved in recent times?
Medical affairs teams are evolving in three key ways, according to our panel:
From reactive to proactive: Medical affairs teams are now shifting from the role of a silent partner into strategy drivers.
Diversity: Medical affairs professionals that are communicating their value and creating new evidence. Evidence is now more diversified to different stakeholders, health outcomes, market access, and beyond.
Technology: Teams are implementing new technology into their processes to save time, generate more evidence, and drive change.
Following the impacts of COVID-19, teams must react and change quickly to new systems and standards. This led to our next question, focusing on the volume and delivery of content.
Question 3: How has COVID impacted the volume and delivery of medical and scientific content?
Our panel provided a deep look into the impact of COVID on the volume and delivery of medical and scientific content.
Richard Graves, CCO and Co-founder of Sorcero, and Matt Lewis MPA, Global Chief Medical Analytics and Innovation Officer of MEDiSTRAVA, shared valuable insight here. Listen to the full webinar to hear their insight into the post-pandemic shifts in medical affairs.
According to Graves, there are two major elements that really change things for medical affairs.
The volume of medical and scientific content
"One is when it was maybe 200 to 1000 articles a week, there was at least the illusion that a medical affairs team could dig in and really cover that each week. We all know that to really do the depth of understanding and analysis was still an incredible burden, but there was the idea that the team could do a manual review with an independent search process to do so.
When it was 10,000 a week, companies realized that there was not even the possibility of doing so, and so they said - we have to repeat this process. Many teams, while they have been attempting to keep up, they've been looking at a keyhole through incredible volumes of literature insights and more complex data.
Some of the customers we work with, and many at MEDiSTRAVA rethought that process by starting from scratch. They've developed a new way of using AI to find complex insights to ranking, pulling out data highlights, and more, which suddenly is bringing new opportunities and availability, even in these other areas which might have lower volume but were barely holding on. Especially with the growth of scientific content overall being over 36% annually, and the complexity of it is getting harder as we deal with more complex diseases, rare diseases, precision medicine, and more," shared Graves.
The intersection between COVID and every area of medicine
"Even if you don't touch a COVID intervention directly, it still affects your life. You have COVID affecting the whole system of care for the rest of the healthcare system. If you're in oncology or you're in chronic disease, even acute care, or if you need to go get an x-ray or a CAT scan, you have to think about all the patients that are being treated with COVID that are kind of being considered alongside those that are of interest for your condition and how that affects guidelines. How will that affect the expectations of the clinicians at the front lines?
The literature for that has evolved as well. I've done a number of projects to help our teams stay on top of and stay cognizant of the changes for their areas, even if they're not directly involved in COVID. It might be tangential to them. Then, of late there's been an emergence of interest amongst a number of groups about the kind of origination and the progression of long COVID and how long COVID may or may not kind of help kind of contribute to some of the concerns that patients may have with other chronic or long term illnesses. This is certainly something that affects us all," said Matt Lewis, MPA.
Question 4: What are some of the use cases for AI as it relates to Life Sciences?
Literature monitoring is a major use case for AI as it relates to life sciences. How are teams using AI to support literature monitoring and surveillance?
Decrease overall monitoring time by 88-92%

Better label and tag key related terms

Help support better decision making

Identify sets of relevant content

Train new hires

Opportunities for predictive insights
"At MEDiSTRAVA, we've seen that certainly through our partnership Sorcero in Intelligent Literature Monitoring. It offers another way of looking at the situation in a way that's helpful and complimentary," explained Lewis.
"Sorcero was the company is always focused on augmenting the experts and really harnessing that expertise. We are doing that in partnership with AI instead of just automating - augmenting. We've had some great opportunities to do that with both Tim and with Matt and his team, and the end customers we work with together," said Graves.
Two-thirds of physicians complain that they're being bombarded with digital content that they don't know how to personalize and customize to apply to their practice," Mikhelashvili explained. "So I think there's a huge use case for also redefining what evidence-based medicine is in the age of AI, where now at the clinical point of care, physicians are able to possibly make decisions that are based on larger, much larger volumes of data than they ever did before."
These use cases are expanded upon throughout the webinar discussion. Our panelists addressed:
Question 5: How can AI improve patient outcomes and the quality of healthcare?
Question 6: What is natural language processing and what is language intelligence?
Question 7: What are some best practices as it relates to the successful deployment of AI and life sciences?
There was also engaged input from the audience. Members asked:
Question 8 (Audience Question): Does NLP applied to scientific literature pose any nuance challenge or challenges compared to NLP we see across EHR data for real-world evidence application?
Question 9 (Audience Question): Are you all using AI or topic modeling to review medical insight and find new and emerging insights?
You can watch the recording of the full free webinar today: Free Webinar Recording - The Emerging Role of AI in Extracting Complex Insights from Scientific Literature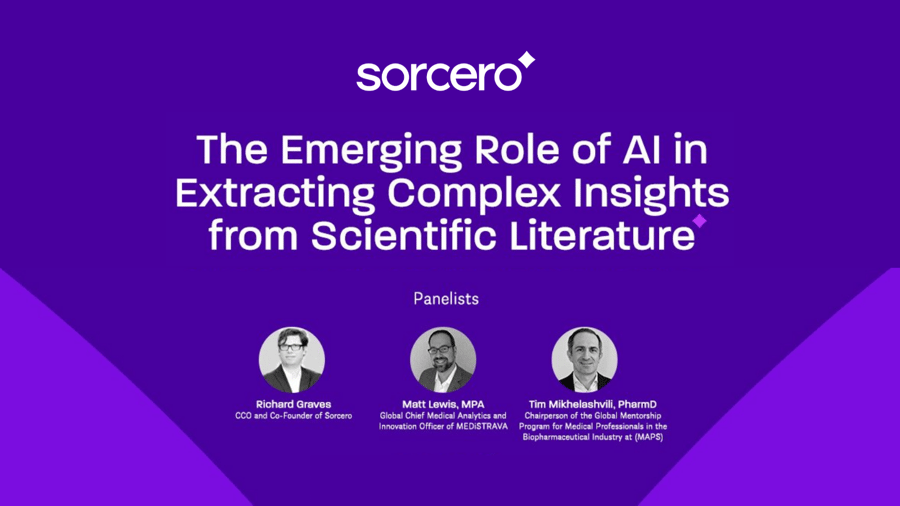 Will we be seeing you this year at the Medical Affairs Professional Society (MAPS) 2022 Global Annual Meeting?
Follow us on LinkedIn, Facebook, and Twitter to connect before, during, and after the event!