Dipanwita Das, CEO and Co-founder of Sorcero, spoke at the International Society for Medical Publication Professionals (ISMPP) 2022 European Meeting on January 26. Das shared key insights and actionable takeaways on the novel applications of artificial intelligence (AI) and language intelligence (LI) within medical publications.
At ISMPP Europe 2022, Das's presentation addressed the question: What are the novel applications of Artificial Intelligence (AI) and Language Intelligence (LI) for medical publishing?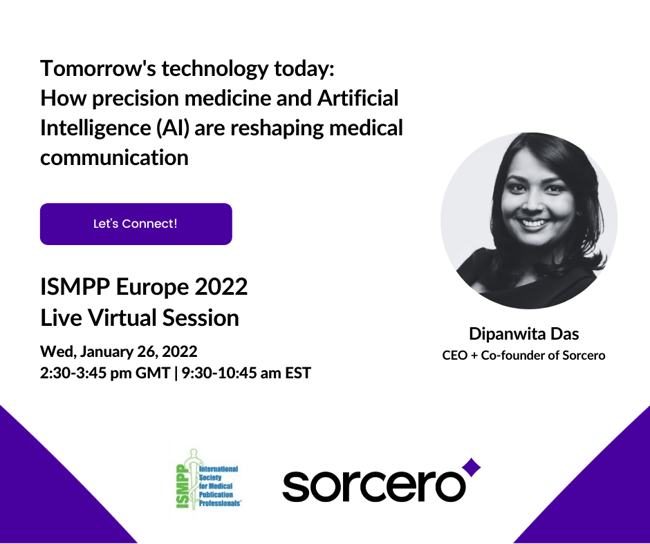 The timely selection of this topic centered on the rise of new, innovative AI approaches that can solve problems that didn't yield to preceding applied technologies in medical publishing. At present, the volume and variety of scientific content is higher than ever before. Medical publication professionals are adapting by implementing AI-driven technologies such as Language Intelligence into their workflows. During ISMPP Europe 2022, Das spoke both about the technology and its application to medical publications.
These new tools bring numerous benefits and efficiencies to medical publishing. They can save time, improve accuracy, and lift the heavy manual burden faced by field experts.
The benefits are easy to name, but understandably, the technology's capabilities and how it could apply to the specific field are still newer areas for most.
What is Artificial Intelligence (AI)?
What is Language Intelligence (LI)? How can medical publishing benefit from it?
Artificial intelligence (AI) refers to computer systems able to perform tasks that have required human intelligence, such as speech recognition, context understanding, decision-making, and language translation.
In AI, there are two prevailing approaches: symbolic and statistical modeling. The symbolic approach embeds human knowledge, behavior rules, and symbols, into computer systems. Biomedical ontologies remain the best representation of human knowledge in healthcare. We use them to guide our efforts, but they can't address all the ambiguity of the real world.
Statistical models apply mathematical approaches to analyze data and make predictions. Machine Learning and its subset, Deep Learning, are systems able to learn and adapt without explicit instructions. Recently, this enabled the creation of massive language models, able to do a wide variety of general domain language tasks.
Natural language processing (NLP) can allow computers to recognize language. It gives structure to unstructured text.
Among many other capabilities, NLP enables computers to:
Classify unstructured text into categories, like names, organizations, or locations (Named-entity recognition, NER)

Categorize text based on a part of speech, like a noun or verb (Part-of-speech (POS) tagging)
Natural language understanding (NLU) is an advanced subset of NLP. NLP is the processing and NLU is the understanding. NLU can:
Determine if an expressed opinion is positive, negative, or neutral (Sentiment analysis)

Discover the context of a publication. Such as if an agent or molecule is the subject of an article, not just mentioned.

Summarize the findings in a longer text (auto-summarization)
There are symbolic and statistical approaches to these goals. Sorcero uses both - a method known as Hybrid AI.
Language Intelligence
Language Intelligence (LI) enables advanced language models to work with custom ontologies to deliver powerful AI applications to a specific sector, organization, or workflow. Through adaptive training and learning, Sorcero's LI utilizes the most advanced deep-learning models and most comprehensive domain-specific ontologies to organize and understand how language is used in the life sciences.
Sorcero's LI can source across the largest set of the world's open-access scientific sources, including 39-million abstracts, 31-million full-text articles, 401,000 clinical trials, 87,000 journals, 1000s of medical guidelines, and over 1000 biomedical ontologies, as well as social media feeds such as Reddit and Twitter. It can source unstructured media and content types, such as PDF and Powerpoint, as well as audio and video sources.

Language Intelligence (LI) is delivering new value from scientific and medical publications. How?
While most organizations first apply AI to more traditional techniques that rely on annotating keywords and phrases, Das explained that LI targets unique challenges in scientific and medical publications. She gave the following examples of more complex insights from LI. With LI, experts can:
1. Extract emerging consensus on a new therapy or medical technique via Contrastive Text Generation
Experts can identify and measure the scientific consensus around new therapies with contrastive text generation. It can generate large sets of positive or negative statements and match them against pools of medical literature. This provides a numeric percentage score on rates of agreement, or disagreement, for tens of thousands of papers.
"This could take months or years of reviewer time," stated Das. "It is exciting to see how this could speed up the ability for published literature to inform medical treatment or guideline committees and magnify the impact of scientific exchange."

2. Execute high-specificity full literature search and data extraction to powering Literary-only 505(b)2 New Drug Applications (NDA) via Natural Language Inference
"Similarly, Natural Language Inference can revolutionize new drug applications for repurposing approved therapies. While literary-only NDAs mechanisms exist, when there are large bodies of literature in not-so-rare diseases, assessing all the premises for a filing can be far too time-consuming," said Das.
Natural Language Intelligence can determine if publications' support of a hypothesis is true, false, or undetermined. For example, it can assess whether an approved drug is efficacious against an off-label indication or a number of other regulatory required premises.
"This can enable an efficient and thorough search with fully developed citation indexes to support your filings. This can turn medical publication teams into a mechanism to replace some clinical trials entirely," explained Das.
3. Mine publications for personalized treatment insights from advanced search criteria mined from patient characteristics via Natural Language Understanding
The most potentially important application for patient outcomes, according to Das, is finding more personalized treatment recommendations from literature.
"As we build more and more sophisticated smart searches, LI can support more parameters and patient criteria that are starting to be extracted from patient records. Currently, some of the best applications match next-generation sequencing results to either oncology drug targets or infectious disease databases to find the best antibiotics. Over time, as EHRs and AI-augmented search converge, we hope to see truly personalized medicine use medical publications as a powerful tool for treatment."
Language Intelligence is capable of novel applications – when directed by medical expertise
"While novel applications of Language Intelligence are exciting, the role of the medical publication expert is paramount," shared Das.
There is a common, and valid, concern whenever new technology is brought into discussion across all industries. How will this impact, or even take over my job? Here, the answer is that it will only add to experts' capabilities. The human element is an essential part of the dynamic, especially in healthcare and life sciences. Das explained, "As AI is used to analyze more complex insights, the role of the expert and the researcher in formulating hypotheses, testing outputs, and premises is growing.
Instead of labeling or data unification, medical experts can use their expertise to do what they were trained to do, research and validation."
Key takeaway: When medical experts and AI products act as partners, the limit of possibilities is determined foremost by the true subject matter experts, not the AI scientist.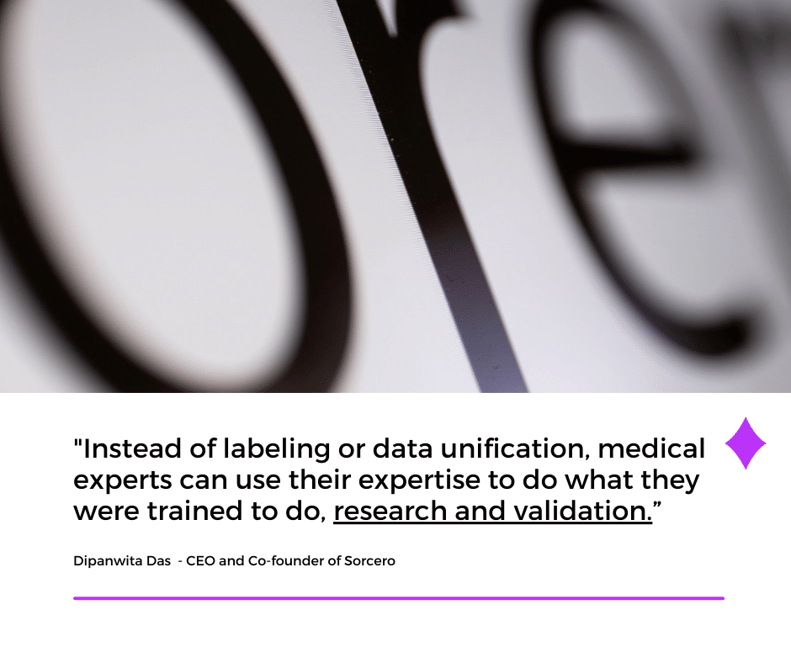 Ethical considerations of AI and health equity
Ethics is not a new discussion in neither AI nor health equity, but how does it all intersect?
Das presented it as two streams of equity that are impacting the intersection of AI and health equity: embedded bias in language data and clinical trial participant selection.
Citing large language models that use massive data sets built and released by leading tech firms like Google and Microsoft, Das explained these models are foundational to building fit to purpose AI applications for medical publications but they are built on language data with embedded bias. Clinical trials receive similar critiques around trial participant selection.
As AI becomes the basis of support for building more equitable trials, it is more important than ever that AI regulators evaluate the use of these data features. Life sciences experts play a part in ensuring that these regulations address use cases in life and health and health equity requirements.
Key opportunities and challenges
Das provided the following overview of key opportunities and challenges for LI in medical publishing:
Deliver more value: New capabilities will create new roles and expand medical publications teams as they can deliver more value from novel applications
Share findings: Certifications and best practice sharing key to successful AI & LI engagements
Engage with external partners: Medical Publication professionals need to engage with AI experts and vendors to deliver novel capabilities to deliver better healthcare outcomes
Health equity: Work with regulators to understand how healthcare and medical applications of AI are different and need frameworks to deliver health equity
Fact from fiction: Discover the "reality" about AI & LI in medical publications
At Sorcero, we spend our time developing fit to purpose Language Intelligence powered solutions for Life Sciences. We are focused on applying this technology to medical and scientific content, particularly publications.
"Our choice of this area was driven by the need to monitor and analyze this growing body of content so that our customers could accomplish their goals at greater speed and scale while maintaining the accuracy that is essential in this space," said Das.
You can learn more about Language Intelligence in Medical Affairs today by downloading our free 10-page White Paper: AI for Medical Affairs White Paper.
Did you attend this year's ISMPP 2022 European meeting? We'd love to connect before the next meeting! Find us on LinkedIn, Twitter, and Facebook.