Gearing up for the Medical Affairs Professional Society (MAPS) 2022 Global Annual Meeting, we gathered with a panel of leading experts for a discussion on one of the industry's trending topics: Insights.
The focus of our Medical Insights Management: Better Insights Faster webinar connects to the theme of this year's MAPS Global Annual Meeting "From Vision to Action-Medical Affairs' Time to Lead is Now."
The role and value of Medical Affairs continue to expand, but tools and resources have not kept up the pace.
Our panelists included: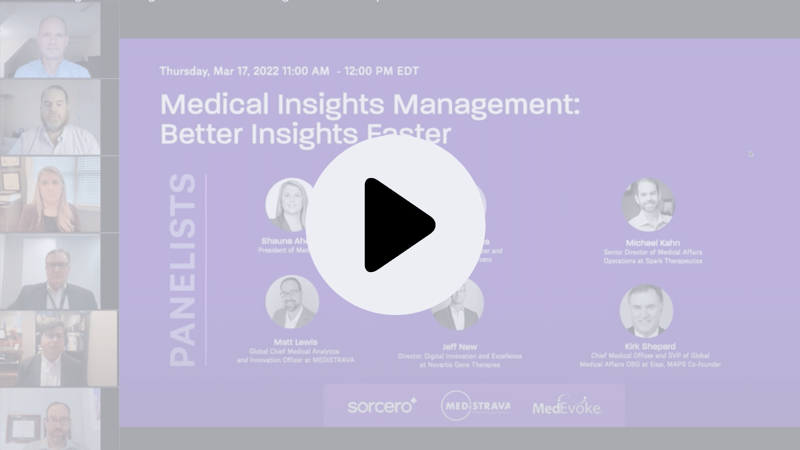 The central questions of the webinar were:
The overall takeaways were quite impactful. Our panel came together to share opportunities and challenges in the field. They provided valuable perspectives on Medical Affairs organization design and excellence, strategy and implementation, and the ways that advanced technology can come together to solve the hardest challenges across life sciences.
Panelists addressed: What are the key components of the pillars of the next generation of Medical Insights Management?
How does Medical Affairs define, source, collect, analyze, and share insights?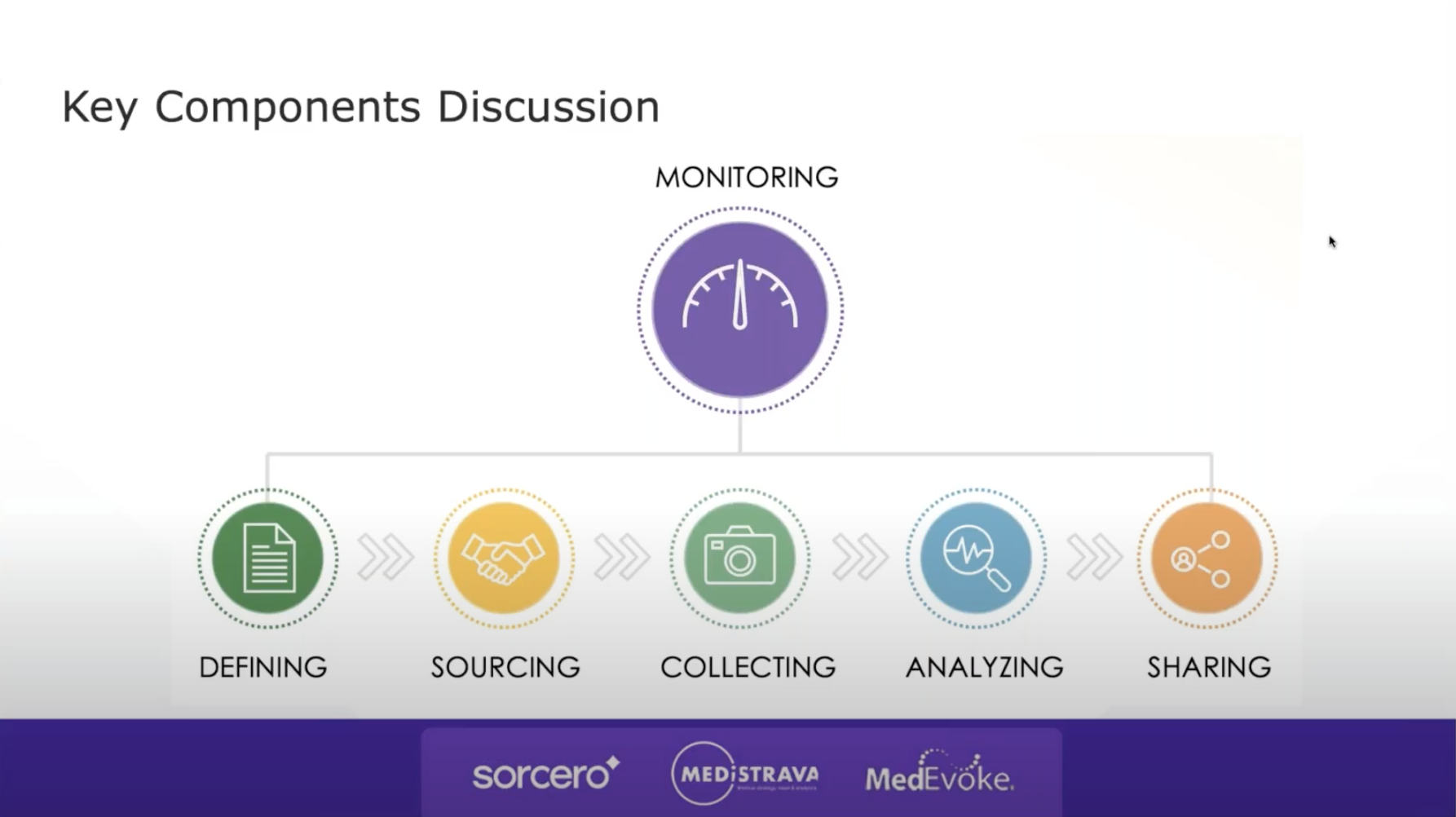 Question #1: What is the definition of medical insights? What are the sources of medical insights?
The definition of insights has been debated for decades, and today, that definition continues to evolve.
There are more heterogeneous sources of insights than ever before. They stem from divergent original sources and formats, and there are challenges in manually pulling this data together and tracking it across an organization.
Today, Medical Affairs needs a flexible insights strategy that can both drive action, but also capture data that we can learn from overtime.
Regarding how to define a strategic approach to insights, Shauna Aherne, President of MedEvoke explained, "In order to better define insights, we need to start with the way that insights need to be filtered and synthesized down to be insight actionable. That's through the strategic imperatives. Each organization needs to keep the end in mind of how they start approaching insights."
Kirk Shepard, Chief Medical Officer and SVP of Global Medical Affairs OBG at Eisai and Co-founder of MAPS, sees insights as "a discovery moment that can drive strategic actions and decisions," but emphasized that the criteria are not rigid. "We'd rather have an MSL err on the side of submitting, and then, in the feedback loop, they get a feeling after the training of what went to the actionable decision-making and they learn that way."
"If you limit things that maybe aren't quite an insight, you may get two inputs that you figure are information or even data. But putting those together, and we're able to do that far more now with technology, and look at trends - they turn into insights," said Shepard.
What is Medical Insights Management?:
Explore the platform
Question 2: Why are medical insights such a hot topic today?
Our panelists all agreed that insights are a trending topic for a reason. The landscape has changed tremendously over the past twenty-five years with many improvements, thanks to better processes, technologies, and support. "It's a very exciting time," said Shepard. "We expect anyone who's externally facing to help us out with these insights, clinicians and the investigators, sites, people in intelligence, and it's all coming together in a centralized way. I know people are seeing now how this does contribute to the strategy and really guide us along, so the value is being proven."
Aherne emphasized that these changes are important because they're about putting the power into the hands of Medical Affairs. "It's not replacing, it's not changing, you know, and that's the thing I think we need to kind of flip on our side. We're not trying to solve for telling what is a medical insight or not.
It's really about making sure that we take the enormous amount of data and information that's out there, make it able to really get down to a point that puts that power in the hands of the people and they can say, 'Hey, this isn't actionable, but it's an insight and I want to watch it or hey, it's here.'"
Question 3: How do we acquire the skills to initiate and ensure that KOL interactions facilitate insight generation?
Jeff New, Director of Digital Innovation and Excellence at Novartis Gene Therapies, leads by equipping his team with the tools to know what they're looking for and encouraging them to practice asking questions and challenging themselves.
Skills develop over time through practice, feedback, and growth. This develops into an important cycle.
Question 4: What is the Medical Insights Management (MIM) feedback cycle? How can we speed it up?
"If we think about insights, not as simply one step of collecting information, but as part of an underlying process number one, but an ongoing process that is iterative and helps to continue to improve. That's how insights can become really impactful," shared Michael Kahn, Senior Director of Medical Affairs Operations at Spark Therapeutics.
Kahn outlined the Medical Insights Management (MIM) feedback cycle, as well as how to refine the strategy according to the individual needs of the organization. Once the cycle is developed, it can be improved, and therefore quickened.
Matt Lewis, Global Chief Medical Analytics and Innovation Officer at MEDiSTRAVA, build on this from his own experience. "Having been in the field, you're really immersed in these deep conversations. It's sometimes challenging to know what to be on the lookout for and having that visibility into what the organization values, which insights rise to the top, so to speak, closing the feedback loop, and getting that information back about what matters is helpful, as well."
For Shepard, "It's a good time to demonstrate the need for speed. Get together with leadership or your team to show that circle and how long it took for an insight to come in, and how long it took for that insight to be made into an actual decision. The thing I say the most often to my team is, 'Wow, that's fantastic. Good work. We need to go faster.'
We need to go faster, because we're about to figure out the decay of an insight, like a PK study, because it deteriorates very quickly, and that's a tragedy when you see something deteriorate that quickly that wasn't taken out to the company."
Next questions:
5. What are the best practices for communicating insights and outcomes? How do we help demonstrate the value of Medical Affairs at the right level?
6. How do we approach Medical Insight Management, and what are the factors that we need to ensure that each key step of this process and cycle is finally communicable?
7. How do we make sure that technology doesn't replace the value of these teams, but augment them?
8. When evaluating technology, what challenges have you faced? What's really worked well?
How can AI purpose-built for life sciences integrate, not replace, Medical Affairs?
Richard Graves addressed some of the uses cases for AI in Medical Affairs. "One of the things we did was in responding to the request from the field of Medical Affairs was that what people really needed was clarity. Clarity across their landscape, clarity across the space. This was really the use case that we formed working with MedEvoke, MEDiSTRAVA, or leading life sciences organizations was that they had a lot of data, but they needed to pull it all together."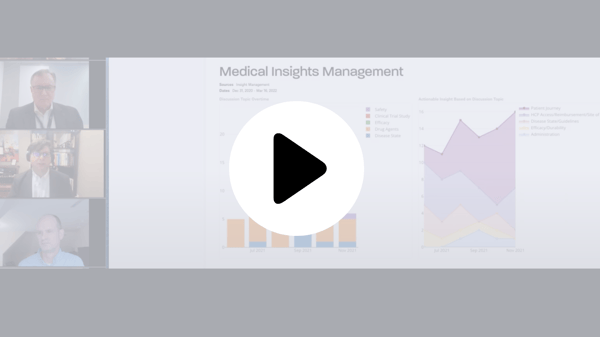 "It's actually about taking some of that off your plate and getting it into a system so you can focus on strategy, analytics, outcomes, actions, and driving that value," said Graves about Sorcero's Life Sciences Platform.
Graves shared elements of the Sorcero Medical Insights Management (MIM) platform in the webinar. In the full webinar recording, Graves showcases the overview that MIM provides. Medical affairs and organizations are able to track diverse data sources and content, pulling it all together in one strategic dashboard.
Audience Q&A:
Members of our Medical Affairs audience also asked some important questions:
Do you ask your MSLs to document a suggested action? Is that something you want to be lifted up and surfaced?

What are some best practices on evaluating an action taken based on an insight?

Since Insights reflect the strategic value of MA in a corporation, should they be included in MA metrics, in your opinion?

Could you share some of your specific lessons learned from studying the relationship between insights and outcomes? How frequently and with whom do you communicate that relationship? Thank you for sharing your unique approach and case study!

What is a pre-insight? Is it not a part of the questioning strategy or pre-call planning in the setting of a field MA / MSL, and how does a pre-insight emphasize rather than confuse or dilute the value of Insights?
You can watch the recording of the full free webinar today:
We'd like to share a special thank you to all of our panelists and guests who joined this webinar!
Will we be seeing you this year at the Medical Affairs Professional Society (MAPS) 2022 Global Annual Meeting? Find us during the event at Booth #5 and during our Hot Topics Roundtable.
We hope you join us at MAPS 2022 for our Hot Topics Roundtable: The Emerging Role of AI in Extracting Complex Insights from Scientific Literature
March 22 @ 3:45 pm

3:45 - 4:30 pm

Hyatt Regency New Orleans

Speakers: Matt Lewis, Richard Graves, Tim Mikhelashvili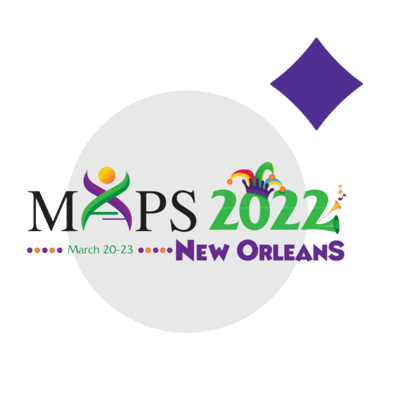 Let's connect! Follow us on LinkedIn, Facebook, and Twitter to connect before, during, and after the event!