Medical Affairs
Medical Insights
Management (MIM)
Capture critical insights from all relevant sources, from CRM notes to Medical Information and Advisory Boards, in an AI-augmented, centralized, strategic command center.
MIM Use Cases:
Clear, real-time insights.
Centralize disparate medical insights across your medical affairs team and analyze the most relevant information.

Accelerate Analysis
Aggregate insights to identify trends and validate the sentiment.

Improve Communication
Inform stakeholders in near real-time with more context and less bias.

Inform Strategy
Directly derive strategy from collective medical insights.
MIM Delivers:
Centralized visualization.
Sorcero's centralized Medical Insights dashboard extracts relevant information and trends from across your medical affairs team. Unstructured text is automatically smart-tagged and contextually evaluated for rank and sort order. Filters can also be applied, including product, specialty, region, and strategic imperative. A validation workflow is applied to provide recommendations for adjudicating insights versus observations and to suggest the next best actions.

- Centralized dashboard
- Automated smart-tagging
- Contextual evaluation
- Filters
- Validation workflow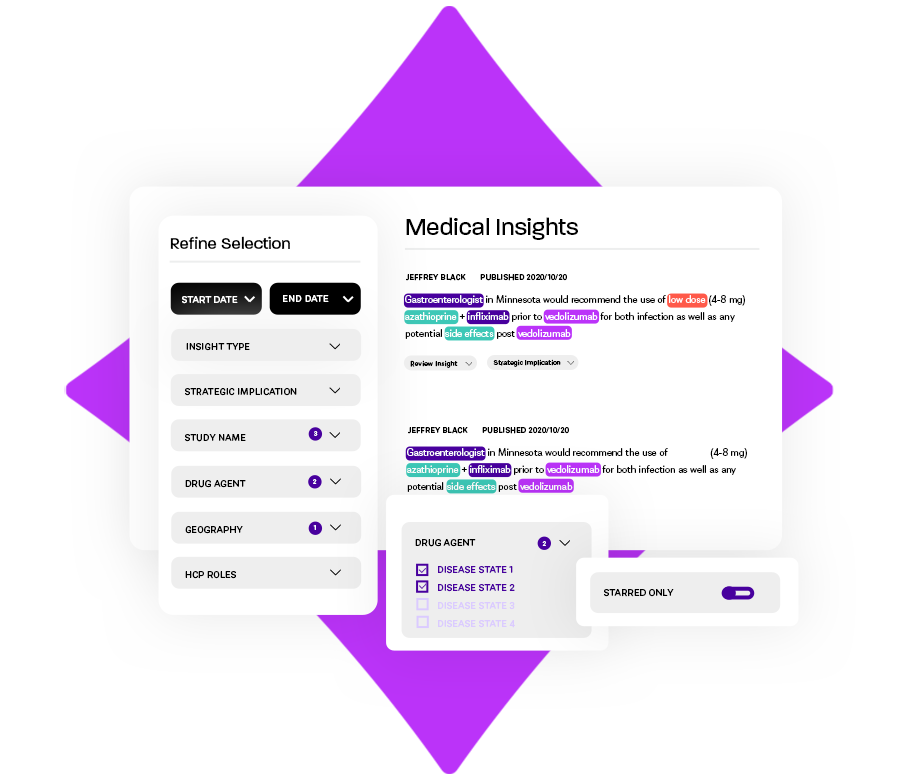 The latest resources delivered.
Stay on top of the latest from Sorcero's resource center.
Modules
Explore other medical affairs modules.
Sorcero's Language Intelligence platform leverages advanced deep-learning algorithms and disease-focused ontologies to organize and understand how language is used in Life Sciences. That means you can gain clarity with faster document review, analytics, and insights from thought leaders across therapeutic areas all over the world.

Product Performance Monitoring
Stay one step ahead of the changing regulatory environment and keep your products compliant with your personal AI assistant.
Learn More


Clarity
Gain a strategic advantage and clarity across your disease and therapeutic areas by bringing together advanced analytics for all areas of scientific engagement into one powerful dashboard.
Learn More