Illuminate Actionable Insights
From Complex Medical Data
Sorcero's AI Platform answers Life Sciences most critical medical questions confidently
The World's Most Evolutionary Technology
Sorcero pairs the world's most evolutionary technology – AI – with our most important problem: saving and improving patient lives. We empower Life Sciences with the medical data and insights required to help doctors and patients make smarter, informed decisions.
Sorcero's AI Platform uses medically-tuned AI to unify and enrich both unstructured and structured data across all sources, giving teams a more than complete view of relevant information.
Why does this matter? Because patients – and their quality of life – shouldn't have to wait for a broken system to provide an answer six months too late. In healthcare, wasting time means wasting lives.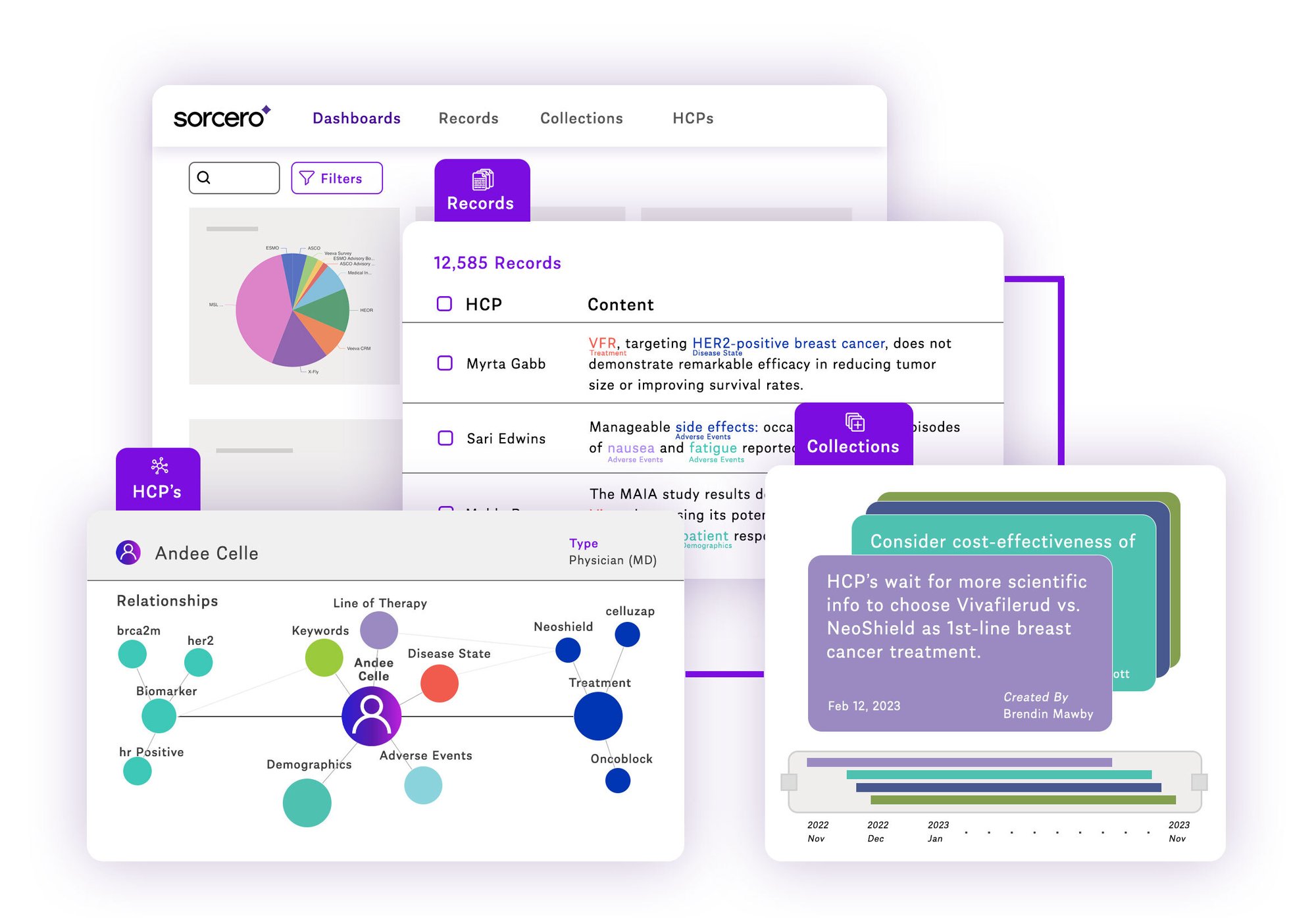 Accelerate Insights & Evidence Generation
Identify the Most Clinically Impactful Content
Drive Strategic Value from All Types of Data
Confidently Inform Strategic Decision Making
Sorcero AI Platform
Sorcero uses AI to help sift through oceans of internal and external information and empower medical decision-makers across the pharma value chain with the insights they need to save lives.
Sorcero has the Largest Scientific Data Pool in the Market
& Connects to Every Major Data Source
43
MILLION
Biomedical
Abstracts
49+
MILLION
Full-text
Articles
1.2
BILLION
Smart Citation
Statements
250
MILLION
Enriched Knowledge
Graph Publications
89
MILLION
Author & KOL
Identity Graph
226
THOUSAND
Sources & Publishers


Journals, Congresses, Preprints,
and Institutional Repositories
109
THOUSAND
Institutions

1,000+
Biomedical
Ontologies
15
MILLION
Biomedical
Concepts
Who We Serve
Medical Affairs, Safety and Regulatory teams are the unsung heroes of medical innovation, committed to enhancing patient care. Sorcero provides these groups with unique capabilities for generating actionable insights from diverse data sources – driving product adoption and boosting patient outcomes with precision and confidence.
Medical Affairs
Medical affairs teams rely on Sorcero to boost their productivity, generate evidence, manage insights, and transform their medical strategy with real-time advanced analytics across the therapeutic landscape.


Learn More

Safety & Regulatory
Sorcero recognizes the central role that safety teams and regulatory affairs plays in ensuring that your patients are safe and your company remains compliant in today's complex regulatory landscape. Our platform helps to facilitate literature surveillance and timely generation of your clinical trial lay summaries.
Learn More

Because Σ (human + AI) > human or AI alone
The Sorcero Ecosystem
Our partners are at the heart of our success, and together, we will continue to evolve and strive for the most remarkable results. Explore our network, discover our shared accomplishments, and join us in shaping a brighter future through collaboration.
Learn More