What are the benefits of artificial intelligence (AI) in patient care today?
Since the onset of the pandemic, the healthcare industry has faced new and burgeoning challenges. Many providers confronted obstacles in staffing, supply chains, and information alongside an urgent call to deliver a COVID-19 vaccine. Through these hurdles, lessons were learned. Life-saving drugs were developed. New patient care trends were discovered. Innovations in technology and artificial intelligence were adopted across the life science and healthcare industries.
In particular, the COVID-19 pandemic has ignited a fuse to examine the patient experience. Health care providers have responded accordingly with enhanced, individualized patient care. New developments in technology and artificial intelligence (AI) are playing a major role in this process by enabling medical providers to find efficiencies and an increased capacity to do what they do best: improve and save lives.
It's clear that the patient experience is evolving as a result of COVID-19. What role does AI play in its development?
Personalized Patient Care
Before the outbreak of the pandemic, a visit to the doctor's office looked entirely different for many. We would approach a professional at a desk without a mask. We would sign paper forms to be placed into our paper files. We would all share one string-tied pen across the office. Now, this experience is hard to imagine.
In turn, telehealth has been pushed to the forefront of patient care. According to a study published by McKinsey & Company, overall telehealth utilization of office visits and outpatient care was 78 times higher in April 2020 than February 2020. These numbers haven't dropped off either, as the study shows a consistent 38x higher utilization of telehealth than before the pandemic.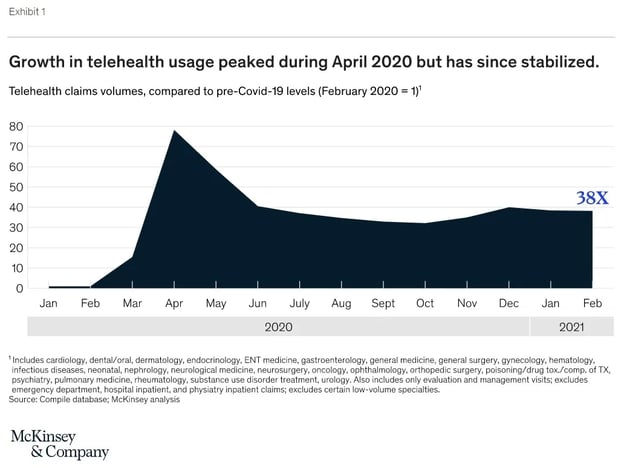 Reports also show that there was significantly higher venture funding for digital health companies in 2020 as compared to previous years. Alongside these trends, it should also be noted that utilization of telehealth services varied across specializations, with mental health care at the higher end and routine visits at the lower end of the scale. There are also valid rising concerns over equal access to digital health services, as well as privacy, data governance, and ease of use.
However, in many regards, the distance between patient and provider is closing with an increased emphasis on personalized care and empathy. Through the pandemic, health care providers are drawing more attention to opportunities to individualize the patient experience. This could include targeted healthcare treatment plans, clinical insights, emotional support, and more.
What is AI's role in this?
Prediction:

Through predictive analysis, health care providers can better identify patterns to help patients anticipate and prevent medical problems. In this "customer-centric model," Deloitte reports that physicians are also utilizing digital patient education and helping patients remotely access labs, tests, and medical imaging. AI enables quicker, more accurate access to the insights this information provides.


Augmentation

: Subject-matter experts can augment their existing expertise and human input with machine learning and advanced AI algorithms. Powered by Language Intelligence, a distinct form of natural language processing, the Intelligent Literature Monitoring (ILM) platform can decrease literature monitoring time by 82-90% by centralizing large volumes of content and identifying the most impactful takeaways. This enables experts to dedicate more time to high-impact tasks, and ultimately improve patient outcomes. When health care providers are able to spend more time interacting with patients, it enhances their overall patient experience and provider trust.

Request a demo of Intelligent Literature Monitoring (ILM) for more insight into this platform.
Enhanced Decision Making
The global impact of COVID-19 emphasized the need for prompt, collaborative responses from decision makers. In a time of increased digital communication, both industry experts and the public valued multiple channels for sharing information. In particular, social media was a major platform for spreading and analyzing public perceptions during the pandemic. Over 3 billion people worldwide use social media, and AI provides tools for real-time analysis of these user's sentiments and demographics.
However, as many more patients access medical information which they may not be trained to interpret, they have become powerful health care consumers, or influencers, who demand treatments that their physicians may often find inappropriate or based on inconclusive scientific evidence. As such, AI and machine learning enhanced scientific literature monitoring allows health care professionals to act as quickly as patient consumers and better respond to barriers of care.
How does this work? AI streamlines information overload by centralizing large data sets and research volumes. When data is quicker and easier to access and the manual burden of filtering through large volumes of research is lightened, better decision-making is possible. Confidence in the quality of information is improved. Health care providers can place more emphasis on predictive insights, allowing for more personalized solutions in patient care and quicker decision-making.
Enabling Research and Development
There are many benefits of AI when it comes to research and development. A vast majority of clinical trials (exceeding 90%) fail. On average, the cost of developing one new drug takes ten years and exceeds $2.6 billion. Moreover, even after validating potential targets in animal models, over half of phase 2 clinical trials fail due to the choice of target.
Although the number of newly approved drugs and vaccines has increased during the pandemic, the productivity of the pharmaceutical industry may not be advancing as rapidly as the demand among various types of patients and diseases. The benefits of technology show that AI enables more time to be invested in drug development.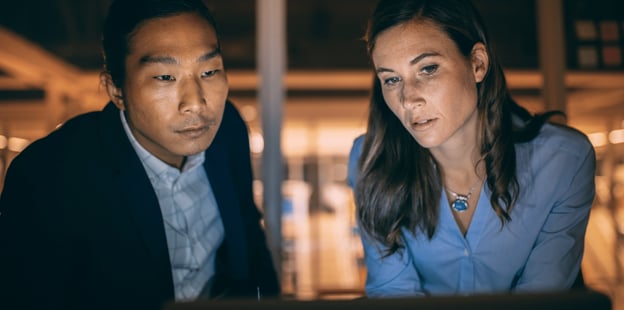 The latest advances in AI have enabled the first humans to enter clinical trials of agents discovered entirely by AI through generative adversarial networks (GANs). It suggests a strong business case that promises to identify the right drug targets earlier, repurpose old low-cost drugs for new and different disease conditions, significantly reduce costs, and even accelerate drug development by cutting the time required to bring the drug from lab to patient in half.
Another example of AI in practice is looped intelligence, in which MIT engineers are operating in an autonomous chemistry laboratory. AI and robotics run experimental cycles and researchers interpret the output. The goal of the experiment is to "drive toward discovery."
AI also enables predictive solutions. There is an abundance of expensive drugs and treatments that require precision medicine assisted by AI in order to predict outcomes such as multi-drug resistance or a lack of response to oncological checkpoint inhibitor treatments. In addition, AI helps build the business case for digital pathology, as human errors in pathology can reach up to 12%. When combined with machine learning, it could detect cancer earlier.
In fact, the essential role of AI is becoming quite clear, as imaging various immune cell types and their interactions with cancer cells requires tens of thousands of discreet individual measurements per each cell. No meaningful analysis can be done without computational approaches.
Not to mention, a key benefit of AI in research and development is a heightened collaboration and sharing of findings. With this consideration, translating the context of growing scientific literature using AI enabled intelligent language monitoring can play a critical role in improving the quality and accuracy of such results. When researchers pool data and findings, it facilitates new opportunities and decreases the margin of error. This leads to better drugs and patient care plans.
How Sorcero is making an impact
Sorcero's Medical Affairs 360 Module enables medical affairs to be at the center of strategic vision, driving scientific leadership, innovation, and the continued digital transformation of life sciences. We have designed workflows specific to the needs of medical affairs, empowering them with immediate access to credible information to augment stakeholder expertise and, ultimately, improve patient outcomes.
To learn more, read our AI in Medical Affairs White Paper, or request a demo today to see how our solutions can work for you.