As Medical Affairs continues to innovate, gaining a foundational knowledge of artificial intelligence can be impactful. It can help build trust, uncover new use cases, and create partnerships between subject matter experts and technology that elevate the state of patient care.
Presented by the Medical Affairs Professional Society (MAPS), Sorcero Cofounders Walter Bender and Richard Graves joined Luca Dezzani, MD, VP, US Oncology Medical Affairs, Janssen Pharmaceutical Companies of Johnson & Johnson on July 15, 2022 at 10 am EDT for a webinar: Demystifying Artificial Intelligence: What is AI and why does it matter to Medical Affairs?
Demystifying Artificial Intelligence: What is AI and why does it matter to Medical Affairs?
In this webinar, we dive beneath the surface of artificial intelligence. Panelists define key terminology, explore AI's capabilities, and address how AI has the potential to solve some of the most complex and pressing challenges in Medical Affairs.
Webinar Panelists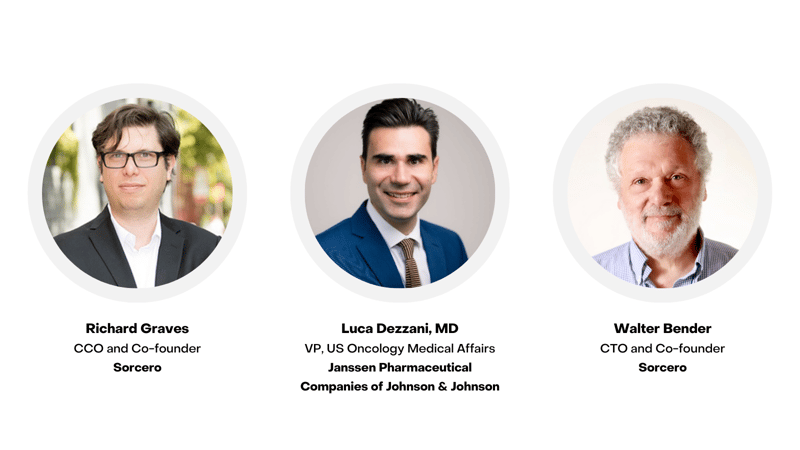 Program Objectives
In this webinar, Medical Affairs will learn:
The fundamentals of artificial intelligence and its core capabilities

Best practices and real-world use cases for AI in Medical Affairs

How AI can help overcome data silos in near real-time with a unified view across all areas of scientific engagement
You will walk away with a critical understanding of artificial intelligence, best practices for building trust in AI, and real-world applications for Medical Affairs.
Watch the Webinar On-Demand:
You can access the webinar on-demand any time through MAPS Connect.
How to Join the Webinar
This is a MAPS member exclusive webinar, but here are a few ways you can join, live and on-demand.
MAPS members: All MAPS members are automatically registered for upcoming webinars and can join via MAPS Connect. You can also watch the webinar on-demand any time.
🔑 MAPS Members: Access the live and on-demand webinar at MAPS Connect
Non-members: MAPS invites you to become a member today or purchase access to the on-demand recording.
On-Demand Viewing: This webinar is now posted for on-demand viewing by MAPS members (free) and non-members ($45) to the Content HUB. You can watch it here.
Stay Up to Date
Stay up to date on this upcoming webinar and all of our events by subscribing to our Resource Center.
You can also follow us on LinkedIn, Twitter, and Facebook for more details leading up to the event!
💡 Do you want to try our AI experiment from this webinar? See if you can tell the difference between an immuno-oncology summary written by a human Subject Matter Expert (SME) and an AI algorithm here >>