The Medical Affairs Professional Society (MAPS) 2022 Global Annual Meeting in New Orleans, LA offered an incredible four days of industry-leading programming, best practice sharing, and networking.
From March 20-23, Sorcero joined over 600 leading professionals for the world's largest annual Medical Affairs gathering. The theme of the 2022 Global Annual Meeting, "From Vision to Action-Medical Affairs' Time to Lead is Now," came at a peak post-pandemic moment in which Medical Affairs professionals are solidifying their position as a strategic pillar in the biopharmaceutical and MedTech industries.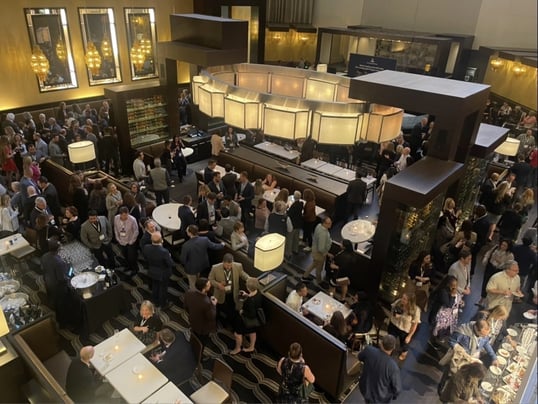 This year's conference featured powerful insights, initiatives, and trends that are influencing medical affairs each day. One major theme of the conference, the impact of technology and AI on medical affairs, was particularly notable to our team. Medical Affairs improves patient health outcomes each day, and the right technology can be a partner that helps professionals make the most of their expertise.
There were numerous impactful presentations, hot topics, and discussions at this year's meeting. What stood out the most to our team at Sorcero?
What are Sorcero's top 5 takeaways from the MAPS 2022 Global Annual Meeting?
5. Indexes and metrics reaching beyond anecdotes will be essential as Medical Affairs grows.
Medical Affairs is rapidly growing. As such, it needs support from partners, vendors, and professional services to show clear outcomes and KPIs across the landscape. Indexes and metrics, not only anecdotes of impact, will be essential as the field grows, similar to how the field of impact investing was a decade ago.
4. It's time to turn insights into actions -

faster

.
Medical affairs is targeting the turnaround time on insights before they expire or change. Insights have a "half-life" to inform decision-making. If Medical Affairs wants to react as timely as possible to these insights, real-time AI-augmented analysis is essential to keep up with the volume, variety, and complexity.
3. The need for AI technology that understands medical content, medical information, delivers insights, and evidence generation is more pressing than ever in Medical Affairs.
There is a stronger need than ever for an AI-powered Medical Affairs platform that shows the entire field of scientific engagement. Medical affairs needs AI that understands and delivers insights and evidence. The strategic deployment of advanced analytics is essential so that AI can be aimed at the right data sources and questions to ultimately improve patient outcomes.
2. When it comes to new technology - differentiate signals from noise.
With new technologies coming to market each day, it's critical that Medical Affairs finds the right tools that deliver beyond making promises. Medical Affairs is eager to learn more about AI in order to better differentiate between various vendor offerings. When selecting an AI-powered Medical Affairs platform, understanding its core capabilities can be quite impactful.
1. We're all here for the patients.
Patient centricity is at the core of medical affairs. It was inspiring to see the collaborative efforts that exist within Medical Affairs to continuously improve patient outcomes. From clinical trial development to post-commercial, understanding and valuing the patients' perspective is the priority.


Our Hot Topics Roundtable: The Emerging Role of AI in Extracting Complex Insights from Scientific Literature
Richard Graves, CCO and Co-founder of Sorcero, Matt Lewis, Global Chief Medical Analytics and Innovation Officer of MEDiSTRAVA, and Tim Mikhelashvili PharmD, CEO & Co-founder of Amedea Pharma presented a Hot Topics Roundtable: The Emerging Role of AI in Extracting Complex Insights from Scientific Literature on the second day of the meeting.
The objective of the roundtable was to share the exponential value that AI solutions can bring to Medical Affairs. Real-world examples include aggregating and enriching KOL insights to real-time scientific content monitoring.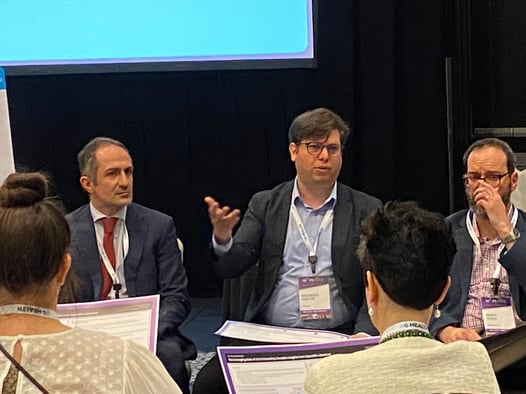 Our Hot Topics Roundtable panel:
Identified 5+ critical use cases of AI deployed by MA at 4 of the top 15 life sciences enterprises

Identified best practices for successful deployment of AI:

Organizational capabilities, processes, and skills

Identifying needs and evaluating technologies

Organizational structure/design and user adoption
The panel addressed:
Contrastive Text Generation can extract emerging consensus on a new therapy or medical technique

Natural Language Inference can execute high-specificity full literature search and data extraction to power Literary-only 5050(b)2 New Drug Applications (NDA)

Natural Language Understanding can mine publications for personalized treatment insights from advanced search criteria
When directed by medical expertise, language intelligence offers many advanced capabilities.
Each family of AI within language intelligence provides a key layer to solving the knowledge extraction challenge for novel use cases:
Annotate medical text (NLP)

Automate heterogeneous ingestion of sources (ML)

Drive deeper concept understanding (NLU)

Validate hypotheses across 10,000s of publications (NLI)
One of the biggest questions answered was:
How can organizations map AI to medical affairs functions?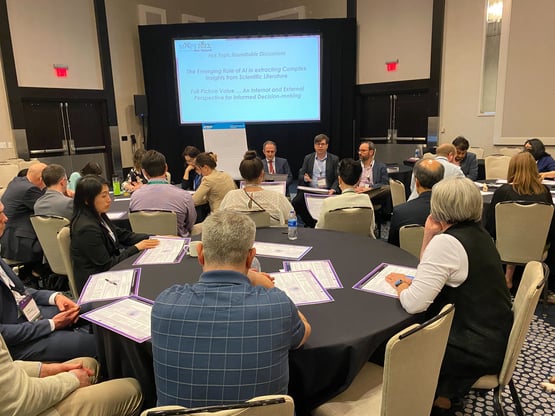 Learn more about the real-world applications of AI in Medical Affairs by watching the free webinar recording of our pre-panel discussion with Richard Graves, Matt Lewis, and Tim Mikhelashvili here.
Behind the scenes: Spotting Sorcero at MAPS 2022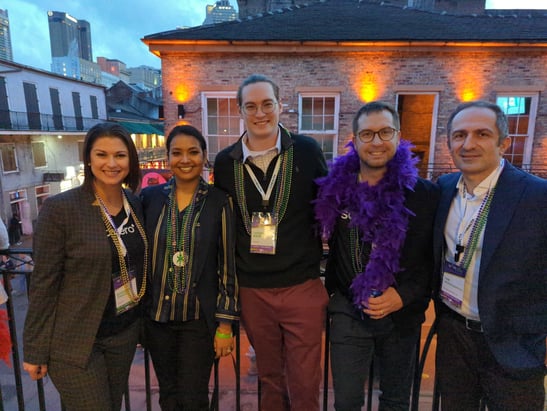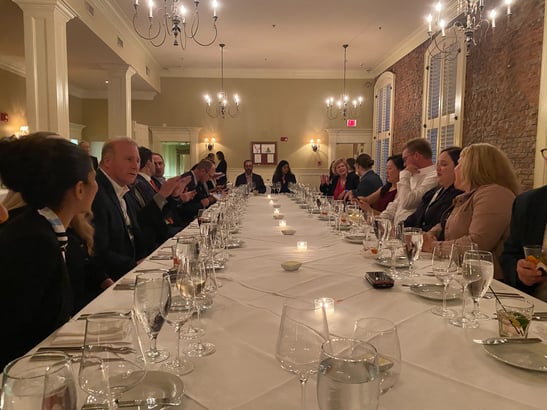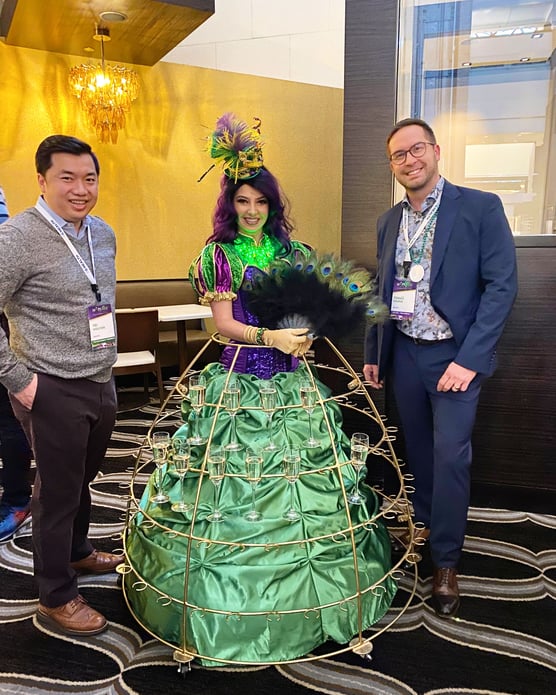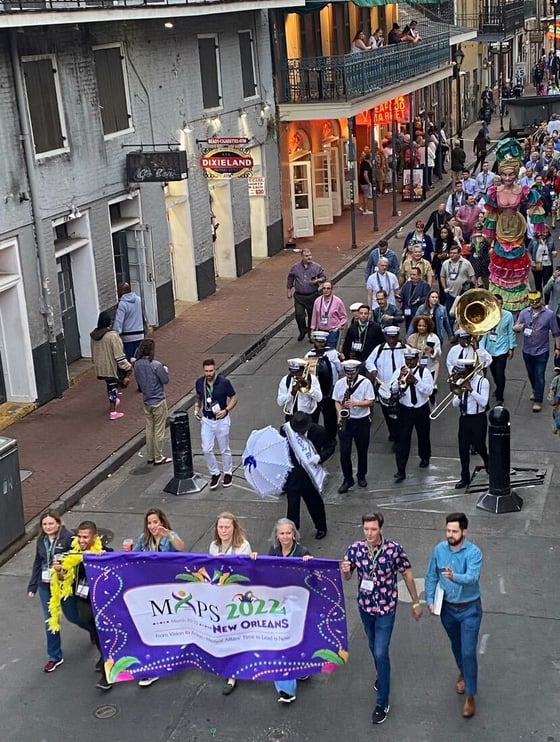 Congratulations, Tim Mikhelashvili!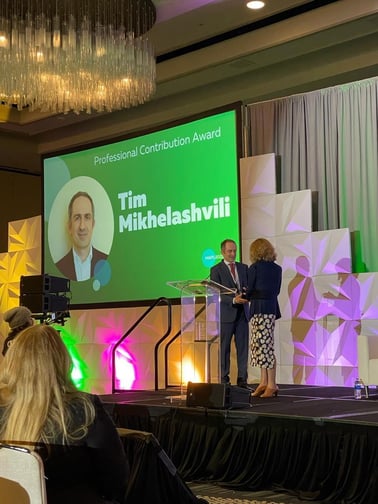 The Sorcero team would like to extend a huge congratulations to Tim Mikhelashvili for receiving the Professional Contribution Award at MAPS 2022. Tim provides tremendous support and mentorship to the MAPS community. There couldn't have been someone more deserving of recognition. Congratulations, Tim!
Thank you, MAPS!
That's a wrap! Thank you again to the Medical Affairs Professional Society (MAPS) for organizing such a memorable event. After two years of a pandemic, it was an immense pleasure to safely gather with and learn from such a fantastic group of 600+ professionals from across the globe.
We'd love to stay in touch with everyone who attended the MAPS 2022 Global Annual Meeting. Find us on LinkedIn, Twitter, and Facebook to stay connected!
Will you be attending the MAPS 2022 EMEA Annual Meeting in Paris, France this May? We'd love to connect with you before, during, and after the two days of industry-leading programming, best practice sharing, and networking!