Data is rising and Medical Affairs is taking full advantage of the surge. With better access to data from varied sources, Medical Affairs can bridge gaps between research and treatment. It can generate more evidence, unify strategies, and demonstrate clear value to internal stakeholders, KOLs, HCPs, and patients.
In this article, we share 3 ways to unlock the full potential of your Medical Affairs data.
Medical Affairs Use Case #1: Insights Management
In today's digital world, there's an abundance of medical insights sources. Medical Affairs is no longer only generating actionable insights from one place, but pulling together valuable information from Field Medical/MSLs, Advisory Boards, Medical Information, and even social media. Many Medical Affairs teams want to know:
How do we bring all of this data together?

How do we quickly identify actionable insights?



How can artificial intelligence streamline insights management?
In a recent webinar hosted by the Medical Affairs Professional Society (MAPS), Sorcero CCO and co-founder Richard Graves, Sorcero CTO and co-founder Walter Bender, and Luca Dezzani, MD, VP of US Oncology Medical Affairs at Janssen Pharmaceutical Companies of Johnson & Johnson discuss best practices for leveraging artificial intelligence (AI) to take this data and turn it into actionable outputs.
According to Luca Dezzani, the biggest challenge that AI has the potential to solve is that there are so many diverse data sources, and Medical Affairs needs to make the most out of them to identify what is actionable.
Artificial intelligence can ingest, unify, and tag diverse sources of information to find and flag trends. By pulling these data sources together, AI can help Medical Affairs identify common denominators and signals to use to inform medical strategies and address unmet needs.
With Sorcero's Medical Insights Management you can connect data – whether from internal or external sources – into a single platform, without requiring expensive data warehouses or manual builds. By utilizing Sorcero Language Intelligence, MIM ingests and enriches both structured and unstructured data from CRM notes to Medical Information and Advisory Boards, and brings it together into a customizable dashboard so that it's readily accessible.
As a result, MIM eliminates data silos, captures 300% more insights, and ensures that Medical Affairs has a single source of truth to turn observations into insights into actions at new speeds.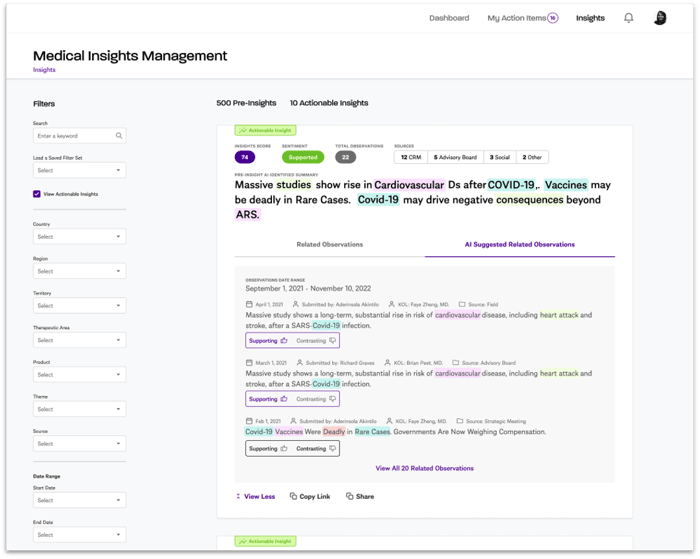 Medical Affairs Use Case #2: Publication Monitoring
In fast moving fields such as oncology, it can be laborious to stay ahead of growing volumes of scientific and medical literature. Finding patterns and signals in large volumes of data and content manually is extremely time-consuming, especially when it's important to translate that data into an accessible, user-friendly format to make it easy to react to and take the next best actions.
Furthermore, across the life sciences, the COVID-19 pandemic has brought new challenges as teams have had to innovate and find faster ways to monitor and gather insights from publications. Additionally, tackling health equity to address diversity and improve patient outcomes is top of mind for many.
For example, many need to be able answer questions such as:
Which populations have been included in clinical trials?

Is there sufficient data on specific populations?

How can we assess clinical trials at scale?



How can artificial intelligence support publication monitoring?
Artificial intelligence can help Medical Affairs identify key needs or unmet needs, like health equity data gaps, from unstructured content including scientific literature. However, not all models are created equal. In a highly technical industry like Life Sciences, it's important to train models with domain-specific language that understands biomedical language.
Inside the Intelligent Publication Monitoring (IPM) platform, Sorcero Language Intelligence custom-tunes the most powerful artificial intelligence models on the market to the specific, biomedical language of life sciences workflows. Through adaptive training and learning, Language Intelligence utilizes the most advanced deep-learning models and comprehensive domain-specific ontologies to organize and understand how language is used in the life sciences.
IPM enables Medical Affairs to ingest, enrich, and analyze content from the world's largest set of open access scientific sources, as well as unstructured data, media, and content types from life sciences content archives and data warehouses. This includes PDFs, PowerPoint, publications, clinical trial reports, along with audio, and video sources.
The goal of this platform is not to replace human experts, but act as a partner, based on different workflows and levels of risk.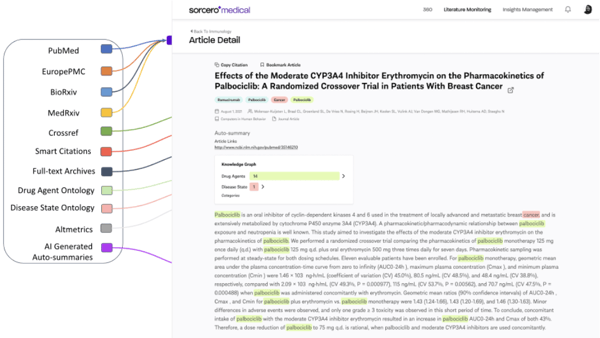 Here are 3 examples:
1. Decision Automation: Medical Tagging in Literature
Medical Affairs can automate medical tagging through IPM. You can automatically pull data from citation indices, ontologies, and full-text sources and unify it. Reports on publication relevance are often created manually, but with IPM, it can be automated so you can focus on the output in context.
2. Decision Augmentation: Identification of Trending Themes
IPM can identify trending themes to highlight disease states, variants, targets, etc. that are emerging in the literature and are important to your KOLs. Medical Affairs experts can use this information to deliver valuable, relevant materials to KOLs with greater ease.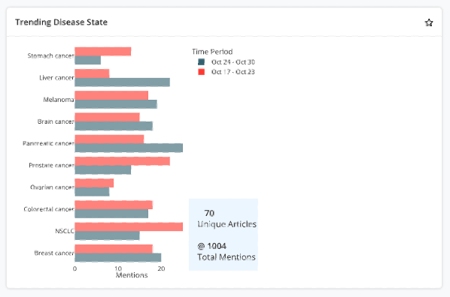 3. Decision Support: Relevancy Scoring for Evidence Review
Analytics for drug relevancy and trending disease states can be used to inform gap analyses and integrated evidence generation. IPM analytics have shown to reduce the time it takes to run a manual review by 88% by providing SMEs with accurate data points to inform that decision. Read the case study to learn about the real-world study with Moderna, Coherus Biosciences, Inizio Medical, and Sorcero.
Real-World IPM Use Case: Monitoring COVID-19 Literature at Scale
In our recent webinar, Walter Bender shared a real-world example of the benefits of using artificial intelligence for uncovering data from literature that cannot be accessed through traditional searches or filters.
"Early on in COVID, we had our AI read literature to identify what had changed. We were able to take early reports on COVID and have the AI look for descriptions of symptoms through a lexical analysis. It would tell us, 'Okay, they're talking about shortness of breath and high fever in March. In April, they're still talking about shortness of breath and high fever, but in the same sentence, lexically, they're talking about a sense of smell.' AI can start to identify through statistical and semantic analyses that things have changed and bring those to your attention," explained Bender.
He continued, "We can start to think about all these texts, that are just bags of words initially, and suddenly we can start to add characterizations such as: What are the symptoms we're finding? What are the populations we're finding? We can add those as annotations that SMEs and KOLs can slice and dice with information that wasn't available through standard keywords or tagging. You can get insight into what you need to pay attention to."
With IPM, data that was never considered to be part of the original data set in standard literature search engines can now be added in. This can be used to more easily access clinical trials that include certain populations or identify KOLs who have experience working with specific populations.
Medical Affairs Use Case #3: Medical Writing
There is an enormous amount of content that comes out of Medical Affairs.
This content answers important questions and provides guidance to life sciences and health care. Innovating to find better ways to translate this scientific and medical information into shareable, digestible formats is a key part of the role.
HCPs are busy and inundated with information each day, so they need to be able to quickly interpret the most important information. Patients have access to more sources of medical content than ever before, so providing them with accurate, accessible content such as plain language summaries is growing in importance.
How can artificial intelligence accelerate medical writing?
Natural Language Generation (NLG) can generate auto-summaries of scientific literature, which can be applied in a variety of use cases. One example could be in literature monitoring, in the instances where teams need to go through high volumes of articles as efficiently as possible.
Intelligent Publication Monitoring (IPM) uses NLG to provide experts with an adequate summary of the full-text articles, so that they can quickly identify what is most important and relevant.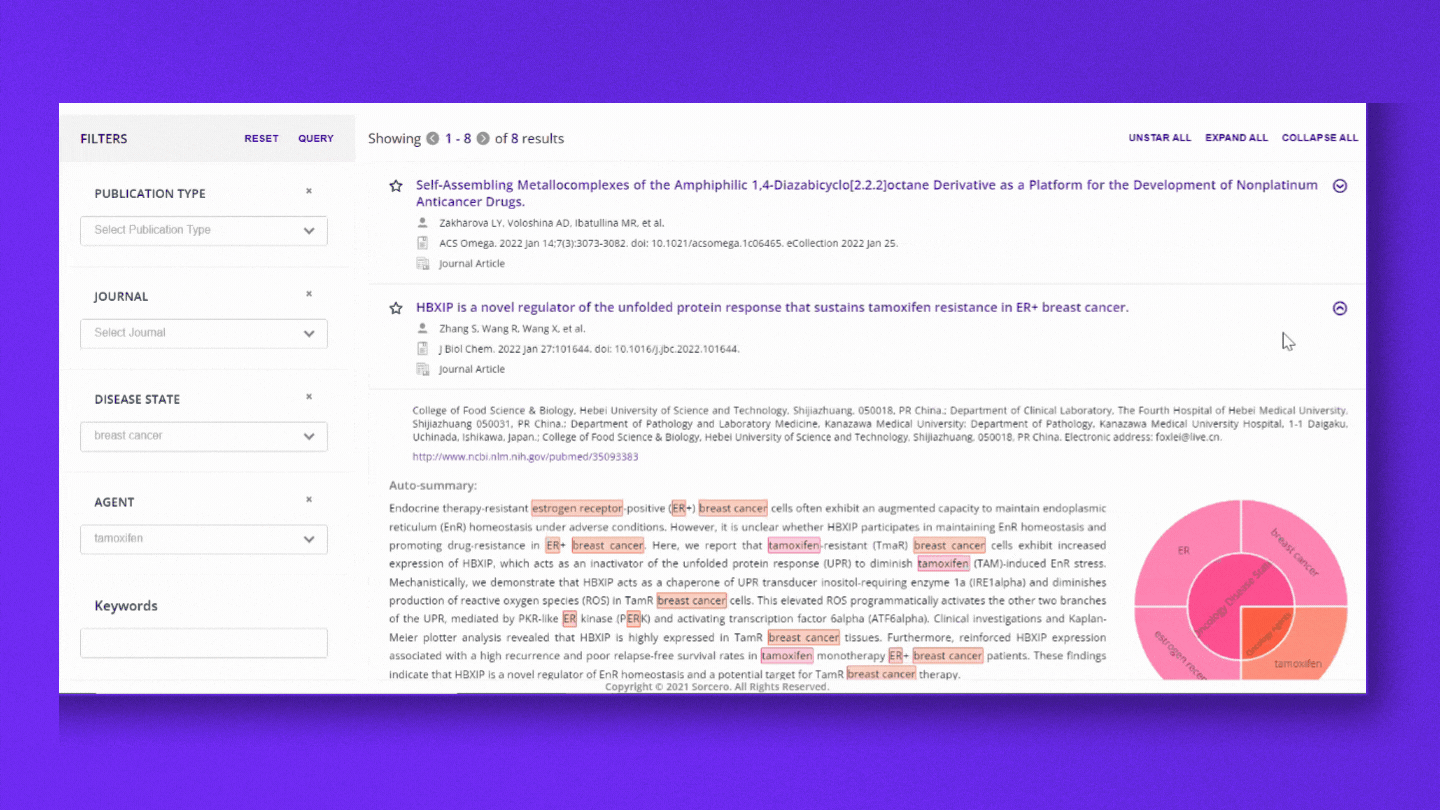 During our webinar, we showed our recent experiment on auto-summarization. Our Sorcero team gathered articles from PubMed. Two Medical Affairs SMEs wrote summaries of the article abstracts. The IPM platform also wrote summaries of the same articles.
The goal was to test whether the AI summaries were adequate when directly compared to those written by human experts. The "Turing Test" was performed to see if other Medical Affairs SMEs could determine which were written by their peers and which were written by the AI.
Several iterations of the experiment have shown that AI can generate summaries that are both adequate and useful to Medical Affairs. The generation of PLSs takes this even further by providing summaries that are provider and patient-centric.
Delivering Data Clarity to Medical Affairs
As Medical Affairs becomes more data-driven, AI analytics and insights can fill critical roles. Life sciences enterprises are investing in solutions that connect and apply data to drive value both internally and externally. Sorcero's Clarity Platform eliminates data silos and manual reporting with tools to capture, enrich, and analyze results.
Ready to capture real-time actionable insights from your Medical Affairs data and content?
Schedule a demo of the Sorcero Clarity platform to see what Medical Insights Management (MIM) and Intelligent Publication Monitoring (IPM) can do for your Medical Affairs team today.