From June 19-23, Sorcero was thrilled to come together alongside industry, regulators, academics, and patients at the DIA 2022 Global Annual Meeting in Chicago, IL.
Coming Together at the DIA 2022 Global Annual Meeting
The DIA 2022 Global Annual Meeting brings industry professionals together to co-create, problem-solve, and discuss global and local challenges facing professionals in the life sciences community.
In 2022, the event safely returned to in-person programming. It was an exciting time that brought new opportunities to learn, connect, and collaborate. The shared goal across the conference was to "advance science and fuel innovation that directly impacts public health."
There were many impactful presentations, content hubs, and discussions at this year's meeting.
Which 3 themes stood out the most to our Sorcero team?
Our Sorcero Team's Top 3 DIA 2022 Takeaways
1. Increasing patient access with decentralization
Patients were at the center of this year's conference, as some were even invited to participate. Trending topics throughout the event included:
How to deliver better site support and education for patients

How to integrate more streamlined systems and technology for data collection
2. Pushing Forward on Diversity and Inclusion
Many agreed - it's beyond time to expand access, exposure, and engagement with underrepresented patient populations. At DIA 2022, we saw alignment and a push from patient advocacy groups, the industry, as well as the regulatory side for better diversity and inclusion. Thankfully, it's taking off.
3. Innovating with clinical analytics
Better, faster clinical analytics can open the door to new opportunities for:
Drug discovery

Trial design

Evidence generation

Supporting site feasibility analysis

Promoting patient diversity

Improving health literacy resources

Pharmacovigilance reporting

Cost efficiencies with medical writing
Sorcero at the DIA 2022 Global Annual Meeting
Walter Bender, Sorcero CTO and Co-founder, led a step-by-step primer on artificial intelligence (AI), natural language processing (NLP), and language intelligence (LI) at this year's meeting.
Sorcero also presented the findings of our real world case study with Moderna, Coherus, and MEDiSTRAVA in our poster presentation AI Under the Hood: What NLP Means for Pharma.
What were some of the key focus points?
Content Hub: Separating the AI Hype from Reality - A Primer on Natural Language Processing (NLP)
The life sciences is eager to learn more about AI and its capabilities, but many non-technical are still weary about how AI works or can be applied to life sciences workflows.
In our DIA 2022 Content Hub, Bender and Regulatory & Clinical Operations Expert Sheila Mahoney-Jewels MBA led an educational primer on AI and how it can be used across regulatory.
In this session, the goal was to empower life sciences with an "under the hood" view of artificial intelligence.
By gaining a deeper understanding of AI's core functions, teams can engage with IT to craft high-impact solutions to their workflows. Some of the key topics discussed included:
The evolution of artificial intelligence traced back to the 1950s

The difference between AI, NLP, ML, and Language Intelligence

Why the life sciences can't rely on public ontologies alone

Why large language models can't fully meet the needs of the life sciences
>> See our Content Hub Handout: AI Auto-Summarization Experiment Content Hub Handout PDF
We also ran an AI Auto-Summarization Experiment based on the classic Turing Test.
Our AI Auto-Summarization Experiment
What's a Turing Test?
The Turing Test, invented in 1950 by Alan Turing, an English mathematician, logician, and cryptanalyst, is still a primary AI tool despite being 70 years old.
The original Turing Test requires three terminals, each of which is physically separated from the other two. One terminal is operated by a computer, while the other two are operated by humans.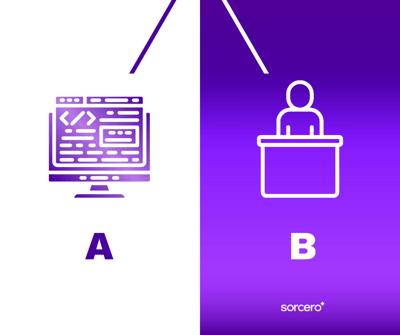 During the test, one of the humans functions as the questioner, while the second human and the computer function as respondents. The questioner interrogates the respondents within a specific subject area, using a specified format and context.
After a preset length of time or number of questions, the questioner is then asked to decide which respondent was human and which was a computer.
The test is repeated many times. If the questioner makes the correct determination in half of the test runs or less, the computer is considered to have artificial intelligence because the questioner regards it as "just as human" as the human respondent.
Our Sample: Scientific Abstract
To run this experiment, we used an abstract from JCI Insight titled, "Multiomic analysis of microRNA-mediated regulation reveals a proliferative axis involving miR-10b in fibrolamellar carcinoma."

👀 Want to see the experiment? Get your copy of the AI Auto-Summarization Experiment Content Hub Handout PDF
Poster Showcase: AI Under the Hood: What Natural Language Processing (NLP) Means for Pharma
The Sorcero showcased a poster presentation titled, "AI Under the Hood: What Natural Language Processing (NLP) Means for Pharma."
The poster presented the real-world findings of a Medical Affairs case study with:
Moderna

Coherus Biosciences

MEDiSTRAVA
It aimed to show the benefits of using AI to accelerate medical literature searches and publication planning.
>> See the poster: Download the AI Under the Hood - What NLP Means for Pharma poster
Comparative negative predictive value (NPV) from two AI Literature Monitoring Platforms
Sorcero's Language Intelligence approach and continuous learning delivered double-digit absolute performance improvements over other AI solutions and above human performance alone (89.3%) across all study types, exceeding the 95% NPV threshold required for a regulatory-grade literature review solution in our published real-world results.
➡️ Download the AI Under the Hood - What NLP Means for Pharma poster



Thank you, DIA!
That's a wrap! Thank you again to DIA for organizing this unforgettable event. It was a fantastic chance to safely connect with such an inspiring group of global professionals.
Will we see at the DIA 2023 Global Annual Meeting?
The theme for the DIA Global Annual Meeting 2023 is Empowering Expertise + Collaboration. We're excited to join in amplifying diverse perspectives from across the globe to reimagine current processes that enhance health and well-being.
Let's stay connected!
The Sorcero team would love to stay in touch with everyone who attended the DIA 2022 Global Annual Meeting. Follow us on LinkedIn, Twitter, and Facebook to stay connected!
Our DIA Resources:
Here's a list of our DIA resources you may find useful: