Life sciences enterprises move at lightning speeds.
Today, new medical literature is coming to life faster than ever before. This valuable information is advancing the state of patient care, but it can be challenging for even the most seasoned and tech savvy experts to keep up with the volume of content.
In this article, we explore how large life sciences enterprises can take advantage of technology to enhance medical literature monitoring workflows.
A New Rise in Medical Literature
Since the pandemic, medical literature is submitted and shared at record rates. According to one study, the number of manuscripts submitted to all Elsevier journals increased by 30% from Feb-May 2020 compared to 2019.
For health and medicine journals, this doubled at 63%.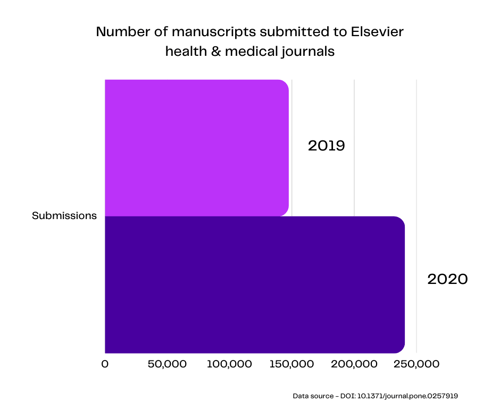 Not only has the amount of literature risen, but so has its availability. Thanks to the rise in open-access publications, it's easier than ever to track the latest publications.
The potential benefits of this free access to continuous learning are monumental - not just in the life sciences, but for medical students, health care providers (HCPs), and even patients.
It would be impossible, and hugely impractical, for any one person to track all of this new information. However, there are several good strategies to stay ahead of this content.
For personal and professional development, many recommend these tips on how to keep up to date with medical literature:
Get engaged on social media with relevant communities

Sign up for email newsletters and personalized article recommendations from industry organizations, institutions, and news outlets

Sign up for daily recap newsletters from professional organizations and industry events

Get alerts from PubMed, EMBASE, and similar databases

Receive updates from major biomedical journals

Subscribe to the Emergency Medicine - NEJM Journal Watch
The complexity rises when it comes to those whose job it is to track medical literature. In the life sciences, experienced experts play a key role in monitoring the latest scientific and medical content for competitive intelligence, compliance, and evidence generation.
💡Join us for an upcoming webinar "Demystifying Artificial Intelligence: What is AI and why does it matter to Medical Affairs?" to learn more about real-world strategies and Medical Affairs use cases >>
Why is Medical Literature Monitoring Vital to Life Sciences?
When it comes to tracing product performance and patient safety, it's critical to see the full picture.
However, with cascades of new medical content, it's difficult to stay on top of new information, uncover key findings, and avoid information overload.
Many are impacted by the information influx. Let's look at 3 areas:
1. Diagnostics
Stricter regulations are also on the rise. Notably, new European Union (EU) regulations require In Vitro Diagnostic (IVD) manufacturers to proactively collect, evaluate, and document post-market performance data.
The goal is to maintain quality and safety throughout the product life cycle. It requires experts to read massive volumes of medical literature to find the relevant passages to their products and maintain compliance.
>> In this case study, see how a leading diagnostics company reduced their hours a week to monitor literature per M.D. or Ph.D. from 30-35 to 1-2.5 hours.
2. Pharmacovigilance
Conducting regular literature searches is a foundational practice in pharmacovigilance. Filtering by the trademarked, International Nonproprietary Names (INN), acronyms, and generic names of drugs for which the Marketing Application Holder (MAH) has PV responsibility, as well as predetermined AE search terms, is a standard practice. Sponsors also add additional filter terms, depending on the nature and complexity of the product and disease state.
Download our new 10 page white paper, Language Intelligence and Pharmacovigilance, and learn about the latest ways that AI is helping PV to elevate Literature and Social Media Monitoring.
3. Medical Affairs
Medical Science Liaisons (MSLs) need to have an encyclopedic knowledge of relevant research and a continuous pulse on the latest publications. They frequently go through multiple data sources to shortlist the most relevant articles. Then, they annotate and list potential use cases and identify the relevant research to bolster their position. It is then converted into educational material for HCP engagement.
Register for our upcoming webinar to hear from panelists Richard Graves, CCO and Co-founder of Sorcero, Luca Dezzani, MD, VP US Oncology Medical Affairs, Janssen Pharmaceutical Companies of Johnson & Johnson, and Walter Bender, CTO and Co-founder of Sorcero and learn more about real-world Medical Affairs use cases and best practices.
So, what's the best solution to the manual burden?
Many leading life sciences enterprises are factoring technology into their strategic approach to boost productivity and lead to better patient outcomes.
3 Ways to Keep Ahead of Medical Literature: Moving Beyond the Manual
Today, many life sciences enterprises are innovating with new technology, like Intelligent Publication Monitoring (IPM), to accelerate their medical literature monitoring workflows. Here are 3 ways to stay ahead:
1. Bring medical literature together - in one place
By centralizing all sources of medical content, life sciences no longer has to scroll through countless tabs of publications. With IPM, you can pull content from the largest open-access scientific data pool, including sources such as PubMed, Europe PMC, and LitCovid, into one location.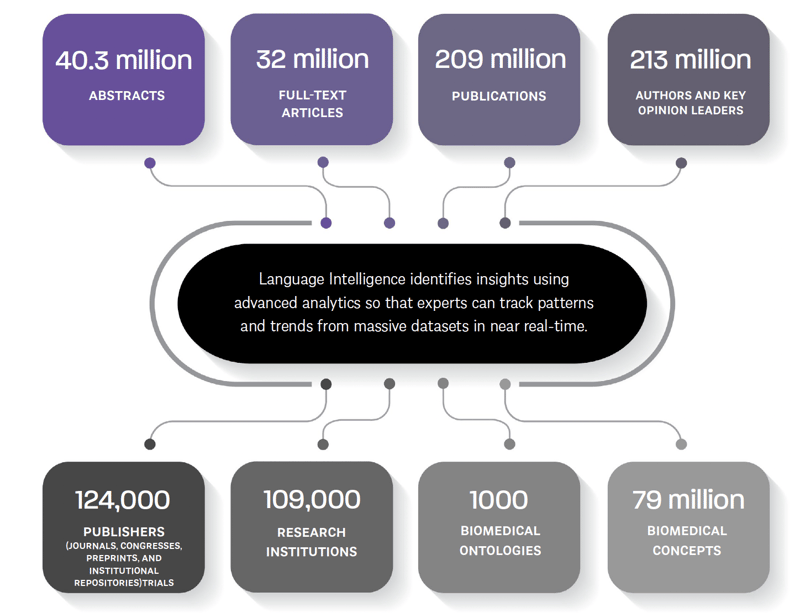 This has shown to accelerate literature review by 88% in real-world case studies.
2. Find what you're looking for faster - with AI insight
Traditional searches and filters in databases make it easier to find what you're looking for. Now, artificial intelligence (AI) is enabling life sciences to move beyond that into targeted insights.
For example, IPM's real-time publication analytics dashboards provide tailored AI insights. These help you identify the most relevant content for your unique needs, with 100% sensitivity and 95% specificity.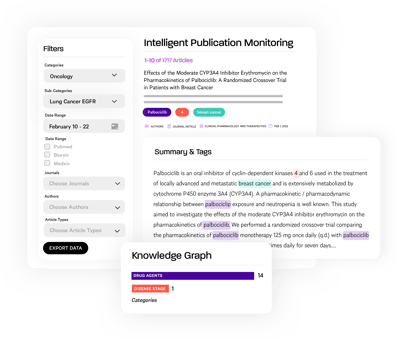 See how it works - Watch a demo video of the platform >>
You can access a tailored data warehouse of ranked, summarized, and tagged literature through IPM.
AI analytics uncover valuable insights in just a few clicks.
Auto-summaries of abstracts and full-text articles speed up decision-making and keep you focused on what's most important.
Do you think you can tell the difference between an AI summary and one written by a human expert? Try our AI Summary experiment
3. Respond to changes in the market - with key research
Medical Affairs can use IPM to track product and scientific performance at scale. Teams can replace therapeutic landscape, competitive intelligence, and outsourced literature reviews and reports, reducing costs by 88%.
Auto-generated reports save you time and give you the edge over your competitors for making strategic decisions and understanding the impact of content in your market.
In just a few clicks, you can create clinical and medical reports, competitor product analysis, and literature reviews in PDF or PPT format.
Keeping a Life Sciences Expert in the Loop
Life science professionals make decisions that could change lives—and save lives. That's why it's important to put the role of the expert first when considering any new technology.
For us at Sorcero, it's about building upon your existing knowledge, augmenting intelligence with the understanding that comes from absorbing a vast array of content, and distilling its context and potential.
We're all about finding ways to reduce the manual burden, so that life sciences can make the most of the streams of valuable information that's out there today.
We want you to be able to spend less time sifting and more time focusing on what matters.
See what that looks like for your life sciences enterprise by scheduling an introductory call with our team.
______
In our upcoming webinar with the Medical Affairs Professional Society, we'll be diving further into the discussion of how to streamline workflows with AI analytics and insights for life sciences.
Join us for a webinar on Friday, July 15 at 10:00 AM EDT: Demystifying Artificial Intelligence - What is AI and why does it matter to Medical Affairs?
In this webinar, you'll learn:
The fundamentals of artificial intelligence

Best practices and real-world use cases for AI in Medical Affairs

How AI can help overcome data silos in near real-time with a unified view across all areas of scientific engagement
You'll walk away with a critical understanding of artificial intelligence, best practices for building trust in AI, and real-world applications for Medical Affairs.
If you'd like to learn more about the ways AI is impacting Pharmacovigilance in 2022, you can download our newly released free 10 page white paper: Language Intelligence and Pharmacovigilance here 💡